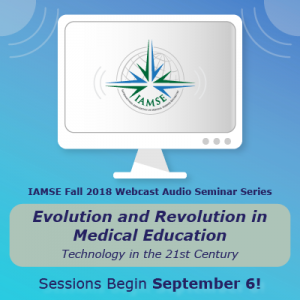 [The following notes were generated by Mark Slivkoff.]
 IAMSE Webinar Series, Fall 2018
Speakers: Kirsten Brown, PhD, MA and Katherine Chretien, MD – The George Washington University, Washington, DC
Title: Using Social Media as an Educational Tool
Series: Evolution and Revolution in Medical Education: Technology in the 21st Century
Brown and Chretien set out to cover the following agenda:

State of social media use
Why use social media
Overview of social media in medical education
Buff and Blue Instagram case study
Reflective writing class blog case study

Approximately 69% of the American public uses some aspect of social networking sites (Pew Research Center, 2017)
Although young adults were among the earliest of the social media adopters, older adult usage has also surged (Pew Research Center, 2017)
Approximately 55% of accredited medical schools also have current student groups on Facebook (Kind, Genrich, Sodhi, & Chretien, 2010)
Most used platform is YouTube, followed by Facebook, Snapchat, and Instagram
The latter three platforms are far more popular among the younger crowd (18-24 year olds)
Why use social media in medical education?

Enhance social learning, connection, community
Harness power of social media as interactive, communication tools
Optimize its benefits for education (e.g., Bialy and Jalai, 2015; Hennessey et al., 2016; Jaffar, 2013; Pickering and Bickerdike, 2016)

Social media platforms offer an untapped potential for medical education
The most relevant learning theory (Ileris, 2007) resides with Social Connections:

Social Learning Theory (Bandura, 1977, 1978)
Communities of practice (Wenger, 2000)
Connectivism (Siemens, 2005)

Recent reviews by Cheston et al. (2013) and Sterling et al. (2017) offer much insight into the use of social media in medical education
If you're interested in using social media, where do you start? You need to ask yourself some questions:

What are my educational goals?
What social media platform do I want to use?
How will this add value to the traditional approach?
What outcomes will I measure?

When considering the platform, you must address:

Its strengths and features
Is the site going to be public or private?
Who will be the moderator?
Who commonly uses the platform?
Do you have experience with the platform?

Brown, an anatomist, uses Twitter to supplement her coursework. Her site is "Buff and Blue Anatomy"
She asked herself the same questions mentioned above before beginning her journey:

The goal was to the bridge the gap in formal instructional time
The platform was of choice was Instagram
The value to be added was novel, instant feedback, formative assessment

The details of her work, and the students' perception of it, were covered in detail and will be described in her ongoing study. She needs one more batch of data after this Fall of 2018 before completing her manuscript. She did report that:

Instagram was a useful supplement to traditional anatomical instruction
Content and timing of the posts are important for student engagement
Most popular posts were those of encouragement and candid photos of faculty (and not of quizzes)

Brown described her main lessons learned to date:

Respondents overwhelmingly found that the @BuffBluetAnat Instagram was a useful supplement to traditional anatomical instruction.
Those that viewed and interacted with the account more frequently rated it significantly more useful than those who viewed and interacted it with rarely
Instagram enables interactions and connections between users that can foster learning by tapping into informal educational opportunities and maintaining student motivation

Chretien also described her use of a WordPress blog a few years ago.
She also addressed the same questions before she started:

Her goals were centered on reflection, student professional development, and discussion
The social medial platform of choice was a blog
The value added includes asynchronous learning, issues can be discussed as they happen, active dialogue, and anonymity
The desired outcomes included satisfaction, engagement, and reflectivity

Chretien discussed the instructions which she gave to her clinical students which provided a sufficient synopsis of her project:

"Requirement: A minimum of two reflective posts per 4- week rotation, with the first post within the first 2 weeks to ensure classmates have a chance to read and respond to your writing. There is no length or subject requirement, but the posts must be reflective, that is, not just telling a story but reflecting on how this experience affects you or changes the way you think about something. Commenting on other classmates' posts is encouraged. The facilitator will read every post and give feedback in the form of comments. Participation is required but not graded."

Her evaluation of the experiences were detailed in a paper (Chretien et al. 2008). Some of the major points:

91 students participated, 177 posts. 1/3 left comments
53% chose anonymous name
Most students enjoyed writing posts, reading posts, and found instructor's comments helpful.
Post themes: being humanistic, professional behavior, understanding caregiving relationships, being a student, clinical learning, dealing with death and dying.
8/177 posts not reflective

And some of her described lessons learned:

Participation was variable
Students wrote about sensitive issues
Hidden curriculum elements revealed, discussed
Burden of logistics
Not true anonymity in many cases
Faculty comments could spur deeper reflection
No professionalism or patient privacy issues

To wrap up, Drs. Brown and Chretien reminded us of the important considerations when it comes to the use of social media in medical education:

Public versus private
Outcome measures
Patient privacy
Professionalism
Expertise in the platform
Learner buy-in

Encouraged all of us to innovate!
Questions asked after seminar:
(Note that some questions and/or answers have been reworded for clarity)
Can a learning management system (LMS) such as Blackboard provide the same experience as social media platforms?
No. Students already use Blackboard for email, and we wanted to use other software that was different. The built in blog in Blackboard is not unique as well. Furthermore, programs like Instagram are driven by apps which makes use easier.
Are quizzes and examinations still administered via traditional means?
Yes, they are. All quizzes in Instagram are purely supplemental.
Do you recycle the content, or new you create new material each year?
Brand new sites/content are posted yearly. Old posts may show up but they are captured as images and placed appropriately.
Have you run into professionalism issues?
No. There have been some minor issues in Blackboard and Wikis, but overall there have been no major issues.
Do you get any pushback from students regarding the WordPress blog? Do they ask questions such as "how does this help me get into residency"?
There has been very little pushback. If anything, students appreciate not having to express themselves face-to-face. Blogging is a better alternative.
Can you share your list of references?
Yes! We will send out after this presentation.
How much time do you spend on your social media "work"?
About 1 hour per day but of course this varies depending on the week. Overall, it takes a considerable amount of time.
 How do you get academic credit doing this work, outside of publications?
The work is related to the scholarship of teaching and learning, with an emphasis on innovating educational technology.