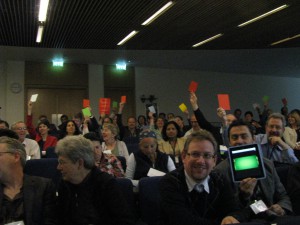 We, in IAMSE, believe that science must continue to be the basis for the practice of modern healthcare. To successfully provide comprehensive care, health professionals must be able to combine compassion, understanding, and communication skills with a readily accessible knowledge base. We believe that all health science educators have an obligation to their students, their profession, and to themselves to model the highest standards of professionalism. And, we believe in equality, embracing the diversity of all colleagues regardless of cultural, geographic, or political boundaries.
The mission of the International Association of Medical Science Educators (IAMSE) is to advance health profession education through teacher development and to ensure that the teaching and learning of medical science continues to be firmly grounded in foundational sciences and the best practices of teaching.
We strive to achieve this by:
providing multidisciplinary, interprofessional and cross-cultural forums for discussion of issues affecting medical science education and educators;
designing and evaluating current and innovative means to teach the sciences fundamental to health professions, and sharing the results for the development of all health professions educators and;
serving as an international voice to enhance appreciation of the crucial role of medical sciences in health and health care.