A webcast audio seminar is a 1-hour telephone conference call supplemented by webcast PowerPoint slides, the webinars are a method of exchanging vital information on timely topics in medical education. The slant of each is geared toward our membership who have responsibility for teaching the basic sciences to those in medical training.
Click Here for the WAS archives
IAMSE Student members have free access to IAMSE Webinars. If you are a student, please contact support@iamse.org for details about registering at no cost.
Do you live outside of the North American time zones and cannot conveniently join the IAMSE Web Seminars on Thursdays at Noon Eastern Time?
IAMSE would like to offer you the opportunity to receive the archived version (slides and audio) within a week of the actual seminar at a discounted rate! The discounted rate is based off of your current country's GDP. A complete listing of countries may be found at: http://data.worldbank.org/country
Discount rates are:
Category 3 (20% discount)
Category 2 (30% discount)
Category 1 (60% discount)
If you would like to take advantage of the Early Release Option for the Web Seminars, please contact the IAMSE administrative office (support@iamse.org) for more information.
| | | |
| --- | --- | --- |
| | Individual Registration | |
| | Member | Non-Member |
| Per Session | $30 | $55 |
| Full Series | $120 | $240 |
| | | |
| --- | --- | --- |
| | Institutional Registration | |
| | Member School | Non-Member School |
| Per Session | $120 | $250 |
| Full Series | $500 | $750 |
Upcoming Series: Fall 2019
Reimagining Faculty Development in Health Professions Education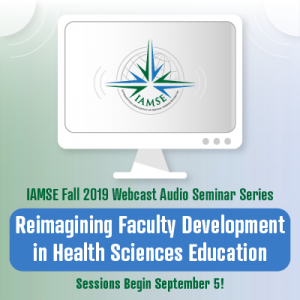 Faculty development can be defined as the myriad ways in which institutions and organizations support faculty members' roles in education, research, service, and administration. These faculty development activities can take on a variety of forms and may have a range of goals and objectives. This Fall, the IAMSE webinar series will take a close look at faculty development for educators in the health professions. The five-part webinar series will begin with an introduction to current trends in faculty development for educators and scholars including identifying current challenges and opportunities. The series will then continue by examining specific topics in faculty development in detail.  First, we will hear about recruiting, retaining, and developing a diverse faculty, which is crucial in creating and maintaining an inclusive learning environment. The following session will be a how-to webinar on the construction of strong promotion and tenure packets based on the educational mission of one's institution. Next, two innovative faculty development programs will be presented as case studies in successful faculty development, one sponsored by an institution and another sponsored by a professional society. The series will conclude with a webinar examining strategies for early intervention, specifically how to develop trainees as medical educators. This series will provide participants with not only practical tips for developing their own skills but also insight into how to become engaged with and possibly improve the faculty development culture within their institutions.  
Registration is now open for the Fall 2019 webinars!
To register as an individual, click here. Or, to register with an institutional registration, click here.