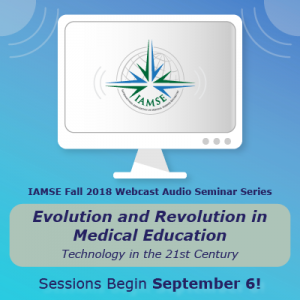 [The following notes were generated by Mark Slivkoff.]
In case you missed the first session in the Fall Webcast Audio Seminar Series last week, here is a quick recap!
IAMSE Webinar Series, Fall 2018
Speaker: Jill Jemison of The University of Vermont Larner College of Medicine
Title: They said "flip" and we said "How high"?
Series: Evolution and Revolution in Medical Education: Technology in the 21st Century
Larner College of Medicine, one of the oldest medical schools in the nation, is transitioning to a curriculum which will be lecture free by 2019.
Full reporting on the curriculum will be completed by 2020, in time for an LCME visit in 2021.
The major players involved in this transition include:

Senior Associate Dean for Education
Medical Curriculum Committee (curriculum implementation)
Office of Medical Student Education (operations)
Active Learning Task Force ("Larner Methods", SOPs, policy)
Active Learning Team (pedagogical change and instructional design)
Teaching Academy (evaluation, assessment, and scholarship)
Technology Services

Technology Services, led by the Chief Information Officer (Jill Jemison, who presented this webinar) is "laying the track in front of train". In 2013, LCME recognized this group as being a strength of the institution.
Specifically, Technology Services of this large university medical school (budget of about $3.5 million) is focused on:

Infrastructure
Applications
Database
Education Technology
Audio Visual
Technicians
Support

The technology plan is evolutionary, not revolutionary; changes have been and will continue to be based heavily on data and analytics.
Education infrastructure includes:

Blackboard as the Learning Management System (LMS), Oasis for scheduling, and ZAP for admissions
Extensive "homegrown" systems including those used for examinations, curriculum management, peer assessments, preceptor assessments, competency tracking and generation of medical student performance evaluations (MSPEs)

Major philosophy of Technology Services focuses on the aforementioned homegrown systems in addition to always owning their data.
The college's data is stored in a data warehouse (COM DATA Warehouse) which serves as the only data hub for all in house and external software.
There is a strong focus on course evaluations which form of large part of the data.
There is heavy use of colorful, detailed course calendars. Colors differentiate pre-work activities, sessions, workshops, laboratories, independent learning, et cetera. Highlighting (clicking on) events in the calendar brings up a side panel which displays relevant objectives, facilitators, and other information.
This extensive mapping allows for the calculation of contact hours which, after being added to preparation time (more preparation time for flipped sessions), further allows for a value in $ to be totaled for each faculty member.
The $ amount ostensibly demonstrates that teaching is valuable. [Currently, this "financial side" of the new curriculum is only being presented to the department chairs.]
Faculty members from all sites (main campus and clinical sites) have access to a teaching "kit" which includes all the necessary components for video recording and editing:

Microsoft Surface Pro 4
Android tablet (for clerkships)
Microphone and headphones
Office 365 including OneNote
Camtasia

The student learning environment consists of rooms which have been rebuilt for active learning.
Some final words on vendors. When contemplating various software solutions (marketed by vendors), be sure to keep the following in mind:

Don't duplicate tasks, and be careful of companies who say they can do everything
Go into vendor discussions with a clear purpose
Test, test, and retest the software in real world situations
Always own your data
Questions & Answer Session
What product do you use to map?
None, but they are looking at a third party.
Do you use the teaching incentives and contact hours in the clerkships?
No, only in preclinical settings.
Do the prep hours differ between sessions?
Multiplier is higher for active learning.
How often do students work asynchronously?
Not often, only during indepedent prepping. And attendance is mandatory.
Do you do cadaver dissection?
Yes. Team A teaches Team B on opposite days.
Was the faculty involved in developing the flipped classrooms? Have they published the changes?
A number of faculty have papers, and many have presented at IAMSE.
How much has all this cost?
Been a 20 year effort. Overall budget for IT is $3 million.
Have there been any negative fallout from the disbursement ($) model?
Currently, the numbers are only being rolled out to the chairs.
Can you share with us the process of faculty development?
Teaching academy identifies scholars and excellent teachers (including outiside speakers).
Do you supply Pathoma or Kaplan or other board prep programs?
Library has some, but Osmosis is the main one used.