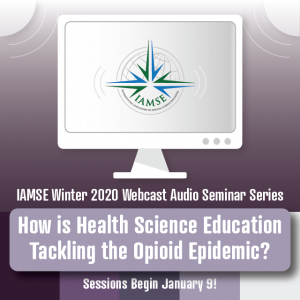 Registration is now open for the IAMSE Winter 2020 Webcast Audio Seminar series. Sessions begin on January 9, 2020.
How is Health Science Education Tackling the Opioid Epidemic?
The opioid epidemic poses a multifaceted challenge, but health science education is playing a significant role in combating this health care crisis. With the development of innovative curricula in pain management and substance abuse. The Winter IAMSE web-based seminar series will provide a comprehensive synopsis of these efforts to respond to the opioid crisis. After an introduction to the topic, the audience will learn about successful health science curricula that expand on existing coursework. Interprofessional education (IPE) is a crucial contributor to improved health outcomes, and the series will include a presentation on IPE that addresses the opioid crisis. The series will include an introduction to curricula about alternative and non-pharmacological approaches to pain management and conclude with a presentation on issues of substance abuse from a student affairs perspective. At the conclusion of this series, participants will have an in-depth understanding of the current educational strategies in response to the opioid epidemic including challenges and opportunities. Furthermore, the series will provide hands-on tips for participants wishing to develop or expand existing pain management curricula within their institutions.
Join us for each one-hour session beginning January 9, 2020 at 12PM EST.
Register Your Institution for the Series!
Register Yourself for the Series!
January 9, 2020 at 12PM Eastern – Responding to the Opioid Crisis: An Educator's View
January 16, 2020 at 12PM Eastern – Using Undergraduate Medical Education to Increase the Number of Physicians Prepared to Prescribe Medication-Assisted Treatment
January 23, 2020 at 12PM Eastern – Methods for Incorporating Opioid Education into Health Professions Curricula
January 30, 2020 at 12PM Eastern –"Spinal Manipulation and Opioids: Navigating the Current Treatment Landscape" and "Reduce or Eliminate the Need for Opioids by Instituting Scientific Integrative Medicine as First-line Care."
February 6, 2020 at 12PM Eastern – Medical Students and Substance Use: Challenges and Supports
For additional information or questions, please contact us via email at support@iamse.org
And the best part is
IAMSE Student Members Register FREE!
For more information on the series, student discount code or to register for individual sessions, contact support@iamse.org.