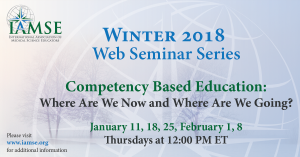 In case you missed yesterday's Webcast Audio Seminar (WAS) Session, here are the highlights of this session:
Generating Trust in Entrustment: an update from the AAMC Core EPA Pilot Group
Presenter: Kimberly D. Lomis MD
January 11, 12 PM EST
Goals of Webinar
Review the background of the AAMC Core EPAs for Entering Residency initiative
Summarize recent activities of the national pilot group
Review guiding principles for implementation
Introduce the EPA toolkits
Discuss areas of ongoing development & study
Can see the Core EPA Pilot Project at AAMC website
Core EPA Pilot Project Motivated by patient safety
Desired Outcomes
Competencies, which are trainable attributes of an individual
Milestones, which are the developmental trajectory of the individual
EPAs describes units of work
Entrustments for a task requires the synthetic application of multiple competencies at a specified level of performance (milestone)
13 EPAs that can be found at the AAMC website
History and examination
Differential diagnosis
Common tests
Enter orders
Document encounter
Oral presentation
Clinical questions
Patient handover
Interprofessional team
Emergent care
Obtain consent
Perform procedures
Safety and improvement
Targeting summative entrustments decisions for that class at graduation in 2019.
10 Medical Schools participated in the Pilot
Four Key Concepts in Implementation of EPAs
Dimensions of Trustworthiness
Knowledge and Skill
Discernment
Conscientiousness
Truthfulness
Assessment

Need to be able to assess the Resident in the " clinical work place"
Digital Portfolios are necessary to assess

Curriculum

Organized and systems-based approach

Faculty Development needs include:

Various faculty roles will require differing levels of training regarding the EPA framework
Nine Guiding Principles are available on the AAMC Initiative Website
EPA Toolkits and "One-Pagers" are available at the website as well.
Toolkit Structure includes
FAQs
"One-Pager" Schematic for the specific EPA
Resources from AAMC's DREAM repository
Bulleted list of Behaviors and Vignettes
Complete Physician Competency Reference Set (PCRS)
Resources
Faculty and Learners' Guide
Curriculum Developers' Guide
AAMC Core EPA Guides
AAMC Pilot Group recommendations: Guiding Principles
To subscribe to the AAMC Core EPA list serve, send a blank email to subscribe-coreepas@lists.aamc.org
For more information on the next session or to register, please click here.