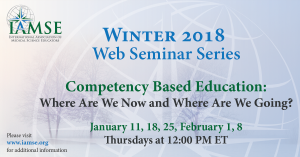 In case you missed yesterday's Webcast Audio Seminar (WAS) Session, here are the highlights of this session:
Competency-Based Medical Education: Understanding the Principles
Presenter: Linda Snell, MD, MHPE, FRCPC, MACP
January 11, 12 PM EST
Goals of Webinar
To lay the foundation for future sessions in this series;
To outline reasons why we need to change our current education system, and how competency-based medical education (CBME) may address these
To define CBME and common terms that are used when discussing it;
To enumerate the 5 components of CBME
To describe models for implementing CBME across the continuum of medical education
Key terms:
Competency – the thing(s) they need to do.
Competent – can do all of the things.
Competence – does all of the things consistently, adapting to contextual and situational needs.
Why change our current education system?
Today's medicine is changing in terms of the Profession, Patient and Public safety and access to care.
How can we as medical educators prepare physicians to be effective in this environment?
Competence drops over time and there are competency gaps.
Challenges of current education system
Modern Medical Education is based on time (fixed length of time) and not ability.
Trainees unprepared to move on
Tend to assess trainees outside of clinical setting.
Fail to fail
Overloaded or burden of faculty
Education not based on patient or society's needs
Highlights of the Flexner Report
Need for fundamental redesign
Facts and concepts need to be taught, practiced and assessed in the context
Evaluation of learners must reach beyond knowledge to rigorously assess procedural skills, judgment
practice until an acceptable level of proficiency is attained
develop approaches to skills training that do not put our patients at risk in service to education
We need doctors who …
Are optimally prepared for practice
Can safely provide complex care
Can work and lead health care teams
Maintain / improve their competence in changing contexts
Possess skills and abilities beyond knowledge
Knowing > doing > being
We need medical education that …
Is based on explicit outcomes needed by graduates
Transparent to learners, teachers, assessors
Focuses on individual learner needs
Ensures physician competence increases over time
Teaches for competence, aims for excellence
Promotes life-long learning
Provides 'right' amount of time
Provides public accountability
"We believe that in the future, expertise rather than experience will underlie competency-based practice and…certification."
Fundamental concepts of CBME
Education must be based on the health needs of the populations served
Primary focus of education & training should be desired outcomes for learners rather than structure and process of the system
The formation of a physician should be integrated across the continuum – UGME > PGME > practice
CBME principles
Focus on outcomes: graduate abilities
Ensure progression of competence
Time is a resource, not framework
Promote learner centeredness
Greater transparency & utility
Milestones and EPAs
Milestone: 
A defined, observable marker of an individual's ability along a developmental continuum that expresses the stepwise progression of expertise; 'significant point in development'
e.g. Respond to patients' non-verbal communication; use appropriate non-verbal behaviors to enhance communication with patients
Milestones tend to be:
Applied to a person
More detailed than competencies
Clear descriptions, explicit statements
Expected level of ability
Observable – link to feedback
Issues Milestones Address
Progression of Competence
Authentic Assessment
Comprehensive Curriculum
Faculty guidance
Learner transparency
Failure to fail
Entrustable Professional Activity (EPA): 
A key task of a discipline (profession, specialty, or sub-specialty) that an individual can be trusted to perform without direct supervision in a given health care context, once sufficient competence has been demonstrated.
EPAs Describes a task
Links competency to clinical context
Reflects a collection of different competencies as applied to the work of the discipline
Linking EPAs and milestones
Assessing unstable patients, providing targeted treatment and consulting as needed
Recognize medical instability
Address primary priorities of resuscitation (ABCs)
Perform a focused clinical assessment
Develop a specific differential diagnosis
Develop and implement preliminary treatment strategies
Identify the necessity and urgency of consultation for advanced care
Document clinical encounters to adequately convey clinical reasoning and the rationale for decisions
Communicate with the receiving physicians or health care professionals during transitions in care
Core Components of CBME
Competencies required for practice are clearly articulated.
Competencies are arranged progressively.
Learning experiences facilitate the progressive development of competencies.
Teaching practices promote the progressive development of competencies.
Assessment practices support and document the progressive development of competencies.
Common competencies within the frameworks
(Clinical) expertise
Problem solving
Health advocacy / prevention
Communication skills
Teamwork / collaboration
Leadership and management
Teaching skills
Life-long learning
Critical appraisal
Professionalism
For more information on the next session or to register, please click here.