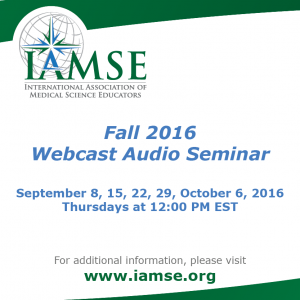 IAMSE is pleased to announce the Fall 2016 Web Seminar!
Times are Changing: Evolution and Revolution in Medical Education – Strategies for Assessment of Skills, Attitudes, and Behaviors across the Health Sciences
Contemporary health science curricula have increasingly expanded beyond teaching knowledge and skills to fostering attitudes, behaviors and elements of professionalism.
The fall seminar series addresses approaches by which these qualities and activities can be assessed in learners when they are not easily quantified by standard methods.  The presentations will address contemporary approaches to assessing entrustable professional activities, clinical skills, and non-cognitive components critical to careers in health professions such as life-long learning and professional behaviors.
Sessions will focus on using simulation to teach and assess basic science knowledge and skills, assessment of "self-directed, life-long learning", utilization of standardized patient educators in clinical skills assessment, and effective strategies for assessing professionalism. In addition, there will be a session on "defining competency, milestones and EPAs", further developing their relationship, and addressing the challenge associated with their assessment.  Throughout the series the audience will be invited to contribute to the discussion by sharing their experiences via telephone or our newly implemented backchannel communication leading to a stimulating and thought provoking experience that will inform current thinking on the issues.
September 8 – Simulation to Teach and Assess Basic Science – Presented by Laurel Gorman
September 15 – Assessing "Self-directed, Life-long Learning" – Presented by Sandrijin Vanschaik
September 22 – Competencies, Milestones and EPAs – Presented by Olle ten Cate
September 29 – Standardized Patient Educators in Assessment – Gayle Gliva
October 6 – Assessing Professionalism – Presented by John Mahan
Registration is set to open in August. Please visit www.iamse.org for more information.