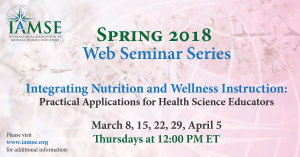 In case you missed last week's Webcast Audio Seminar (WAS) Session, here are the highlights of this session:
Project on the Good Physician: Using Life Stories to Study Medical Student Wellness
Presenters: Tania M. Jenkins, PhD and John D. Yoon, MD
March 29, 12 PM ET
The Project on the Good Physician is a longitudinal study of the moral and professional formation of the US physician.
How does one become and remain a good physician?
Researchers found high rates of reported burnout for medical students.
The life-story approach is unique because it examines the dynamic nature of stressors and resilience-building factors before and throughout the duration of medical school.
The study design included questionnaires and follow-up phone interviews. Secondary analyses were conducted on the qualitative data from the phone interviews which produced the following findings:

Stressors: Negative role models, difficult rotations, USMLE Step 1
Double-edged swords: (stressor and/or motivator) Financial concerns, personal life events
Stress-attenuating factors: Positive role models, support networks, faith and spirituality, passion (These strategies helped students reframe stressors as temporary.)
Studying life stories provides a window into how medical students make sense of their lived experiences and how they identify stressors and those factors that protect against stress.
Life stories explore the role of past individual challenges as sources of future resilience by creating an understanding of how lived experiences influence and mitigate stress.
For more details about this study, please refer to the Good Physician website: https://pmr.uchicago.edu/projects/research/good-physician
For more information on the next session or to register, please click here.