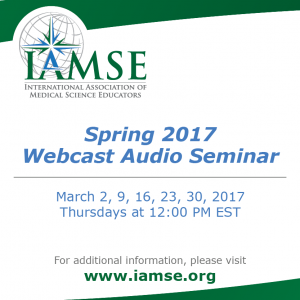 IAMSE is pleased to announce the Spring 2017 Web Seminar Series!
Remediation in Health Science Education
As a follow-up to the IAMSE fall 2016 web seminar series on assessment, the spring 2017 IAMSE web seminar series will continue with exciting, informative sessions focusing on remediation. The goal of remediation is to correct the course of students who have gone astray in their journey to become a health professional. However, because of the varying components in a professional health science curriculum including basic science knowledge, clinical skills, and professionalism coupled with ever changing curricular modifications; effective remediation in health science education has become a complex issue with many challenges. To explore some of these issues, the spring web seminar series will provide a series of presentations by speakers who will share their experiences and expertise in remediation. The fundamental groundwork for the understanding of the importance of successful remediation will be laid and examples of programs who have applied these principles to integrated basic science courses and clinical skills will be provided. A timely presentation on the approaches to remediation of the new paradigm in undergraduate medical education assessment: Entrustable Professional Activities (EPAs) will be included. Licensing exam failures are a major concern in health professions education and one session will be dedicated to a panel presentation of identification of students in jeopardy of not passing and/or remediation of these exams from the perspectives of allopathic (USMLE Step-1), osteopathic (COMLEX), and physician assistant (PANCE) medical programs. The series will also contain a session on the many issues (philosophical, educational, and legal) of "forward-feeding" assessment information on learners to faculty in subsequent courses. The audience will be invited to contribute to the series by sharing their experiences and insights using the phone line or our newly implemented backchannel communication.
March 2 – Remediation of Basic Science in Integrated Blocks – Presented by Giulia Bonaminio and Jeannette Guerrasio
March 9 – Remediation of "High Stakes" Professional Exams (USMLE Step-1, COMPLEX, PANCE) – Presented by Aubrey Knight, Nicole Wadsworth, and Pat Kenney-Moore
March 16 – Remediation of EPAs and "Trust Decisions" – Presented by Bryan Martin
March 23 – "Forward Feeding of Assessment Information" Should We Do It? – Presented by Lynn Cleary
March 30 – Remediation of Clinical Skills – Presented by Cate nicholas and Cami Curren
Registration is set to open in January. Please visit www.iamse.org for more information.