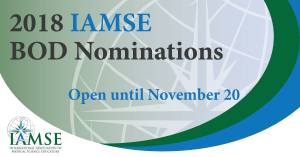 As a reminder, IAMSE is currently seeking nominations and self-nominations of candidates to serve on the IAMSE Board of Directors. International members are particularly invited.
The Board of Directors is the governing body that determines the direction of IAMSE and all our various programs and activities. This Spring, four of the Director positions become subject to election. The term for an IAMSE Director is for three years, renewable once.
The formal "job descriptions" for IAMSE Director are posted here. To submit your nomination or self-nomination by November 20 at 5 PM ET, please click here.