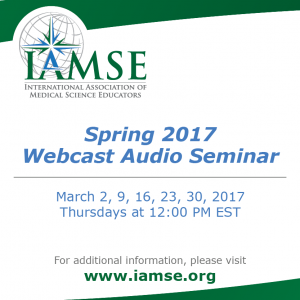 Due to technical issues with last week's session, we are moving our webinars to a new platform.
This week's session 'Remediation of "High Stakes" professional exams' will be postponed to April 13th so that we may transition smoothly to the new system. We will announce the new date soon.
Next week, we will continue our series as scheduled, with "Trust and Remediation: Entrustable Professional Activities and Trust Decisions" from presenter Brian Martin.
We apologize for the inconvenience caused by this delay but looking forward to providing you with an improved webinar experience next week.
If you have any questions, please write support@iamse.org.