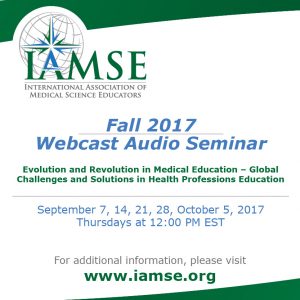 In case you missed yesterday's Webcast Audio Seminar (WAS) Session, here are the highlights of this session:
Challenges and Opportunities for Medical Schools in Africa
Presenter: Quentin Eichbaum, MD, PhD, MPH, MFA
September 28, 12 PM EST
Africa is large and complex that includes wide spectrum of geographies, economies and cultural difference, including over 1000 different languages and dialects.
No One Size Fits All
Global health is central in Africa and what they have constructed.
Competency-based education model or backwards design.
Three key concepts: Context Global- local; Interdependence in Education; Transformative learning.
Medical Education Partnership Imitative (MEPI) is no longer replaced with AFREhealth in conjugation with Consortium of Universities for Global Health (CUGH).
Challenges facing New Medical Schools in Africa
Standards/accreditation
Admissions
Assessment and evaluation
Curriculum
The Problems
Insufficiently inclusive of input from LMICs.
Insufficiently context specific
Unresolved "individualist/collectivists disjunction
Inadequate assessment methods
Conclusions
Africa – a large place with complex cultures, policy legacies (colonialist & other)
Medical education in Africa spans a wide range of resources and modalities in pedagogy, standards/accreditation, curricula, admissions, assessment and evaluation
Key concepts in global education – contexts, interdependence – Consortia, alliances, networks–MEPI, Consortium of New Southern African Medical Schools (CONSAMS), AFREhealth, CUGH – Role of "global health" in driving change global education, research – Risks of exporting 'Western' education into local African contexts
Problem with competencies in African 'collectivist' settings
Ethics of research; capacitation; science vs humanities
For more information on the next session or to register, please click here.