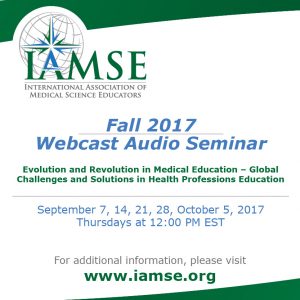 In case you missed yesterday's Webcast Audio Seminar (WAS) Session, here are the highlights of this session:
The Future of Family Medicine – In China
Presenter: William J. Burke, D.O., FACOFP
September 14, 12 PM EST
Objectives:
Discuss the background leading to an emphasis on the development of primary care.
Share the International Primary Care Educational Alliance (IPCEA) journey in China
Discuss Healthy China 2020/2030
The purpose of IPCEA is to advance the recognition and development of primary care medicine as the foundation required to provide timely and appropriate access to quality, cost-effective, humanitarian health care for all people of the world.
Physician Training Today in China
Complete K -12 in High School
Matriculate into Medical School right after High School
Complete residency of 5, 7 or 8 years

Bachelor's Degree after 5 years
Master's Degree after 7 years
D. after 8 years
Both 7 and 8-year degree involve research
All degrees include a 1 year Clinical year similar to our 3rd year clerkship year
Dilemma in China
Access
Quality
Cost
Lack of Insurance Coverage
Rising Cost of Healthcare
Lack of Confidence in Community Clinics and Small Hospitals
Solutions
New Government Focus

Make people-centered health care a priority

Increased Tax Base
Increased Government Funding for Universal Basic Healthcare
Decision to turn to Primary Care and the Partnership with IPCEA
Goal to have 300,000 new and re-trained Family Medicine Doctors by 2020.
Increase the number of Community Health Centers and Community Health Stations.
For more information on the next session or to register, please click here.