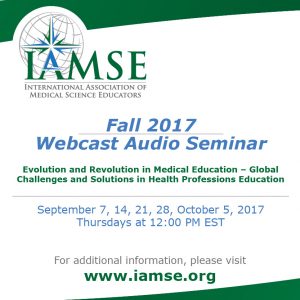 In case you missed yesterday's Webcast Audio Seminar (WAS) Session, here are the highlights of this session:
The Rising Tide of Competency-Based Medical Education: A Global View
Presenter: Jason Frank
September 7, 12 PM EST
Summary:
Health Professions Education (HPE)

Several Challenges of HPE
Time spent does not equal ability achieved
Trainees are not fully trained when arriving at clinical sites
Assessment issues

Competency Based Medical Education (CMBE)
Principles based on

Focuses on outcomes; graduate ability – not knowledge
Ensures progression of competence
Time is a resource not a framework
Promotes learner centeredness
Greater transparency to utility

Spectrum of skills acquisition

Novice > Advance Beginner > Competence > Proficiency > Expertise

CBME definition of Competency is an observable ability of a health professional
Van Melle's Core Components of CBME (Five elements of a CBME Curriculum)

Outcomes competency framework
Sequence progression of competency
Tailored learning experiences
Tailored bedside coaching and observation
Programmatic assessment

Bottom line: Is your program a competency based?
CBME is about a better way to train health professionals.
For more information on the next session or to register, please click here.