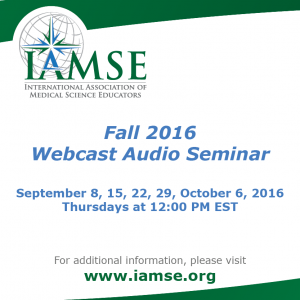 In case you missed yesterday's Webcast Audio Seminar (WAS) Session, here are the highlights of this session:
The Breadth and Depth of Standardized Patients in the Teaching and Assessment of Clinical Skills
Gayle Gliva-McConvey
Eastern Virginia Medical School
Heidi A. Lane EdD
Virginia Tech Carilion School of Medicine
Carrie Bohnert MPA
University of Louisville School of Medicine
The evolution of standardized patient education has been ongoing since the 1960's and today is an ever-expanding educational methodology that is utilized across the continuum of medical education.
Standardized patients can provide valuable feedback to learners across a variety of observable skills and techniques (e.g. interpersonal communication, professionalism, scrubbing, etc.).
Standardized patient feedback works in tandem with clinician feedback; it does not replace clinician feedback.
Studies report strong inter-rater reliability between physician and standardized patient checklists.
Standardized patients' roles across the medical education spectrum are increasing in breadth in non-traditional areas such as mock interviews, customer satisfaction, business administration, etc.
Running a standardized patient program is a complex operation that involves adequate financial resources along with ongoing training and planning.
Focused training for all standardized patients is essential to optimize the learning encounter.
For more information on the final session or to register, please click here.