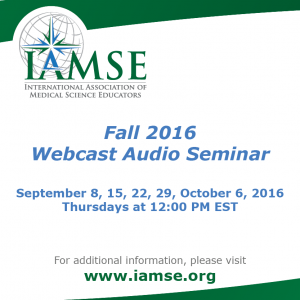 The International Association of Medical Science Educators (IAMSE) is pleased to announce that the archives for the 2016 Fall Series of the Webcast Audio Seminars, Times are Changing: Evolution and Revolution in Medical Education: Strategies for Assessment of Skills, Attitudes, and Behaviors across the Health Sciences, are now available online!
The Webcast Audio Seminar archives are located on the IAMSE website under the Events heading as Web Seminars. Here, you will be able to search the archives or browse by year and series. Every series is available publicly one year after the series originally began.
If you have any questions or problems accessing the archives, please just let us know at support@iamse.org.