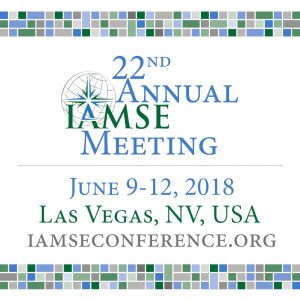 We would like to extend our congratulations to thirteen individuals who have been awarded the 2018 IAMSE Travel Award. These awards support students or junior faculty to attend the IAMSE Annual Meeting. Made possible by Aquifer, each $1,500 award is meant to cover expenses related to attendance at the IAMSE annual meeting, such as conference registration, lodging, and airfare.
The awardees for 2018 are:
Junior Faculty:
Joel Roberts, MD
Instructor of Physiology
Rocky Vista University
Parker, CO, USA
Cortny Williams
Department of Basic Sciences
University of Western States
Portland, OR, USA
Claudio Cortes, DVM, PhD
Oakland University William Beaumont School of Medicine (OUWB)
Rochester, MI, USA
Student:
Ali Alkhawaji
Dalhousie University
Halifax, Nova Scotia, CAN
Emily Hays
Florida International University
Miami, FL, USA
Sam Lee
Mercer University School of Medicine
Macon, GA, USA
Shawna McCafferty
Medical College of Georgia at Augusta University
Martinez, GA, USA
Vanessa Nguyen
Campbell University School of Osteopathic Medicine
Lillington, NC, USA
John Nolan
University of Vermont Medical Center
Burlington, VT, USA
Saskia Richter, PhD, ATC
A.T. Still University
Mesa, AZ, USA
Martina Stojanovska
Case Western Reserve University School of Medicine
Cleveland, OH, USA
Catherine Wang
Case Western Reserve University
Cleveland, OH, USA
Seddrick Weekes
Brigham Young University
Provo, UT, USA
Congratulations to this year's award winners. We look forward to seeing you in Las Vegas.
Thank you,
Joe Stein
Chair, Educational Scholarship Committee