The 2020 IAMSE Fall Webcast Audio Seminar Mini-Series is off to a great start. The next session will begin next Thursday, September 10 at 12pm Eastern. Experts and thought leaders will discuss how different health professions programs will make informed decisions about whom to admit in the face of the challenges brought on by SARS-CoV-2. Our second session in this three-part series will feature Jeremy Turkall from the University of South Florida, Erika Brooks from PAEA and Thomas O'Shea from the University of Iowa.
Click here for information on the fall mini-series
Jeremy Turkall, Erika Brooks and Thomas O'Shea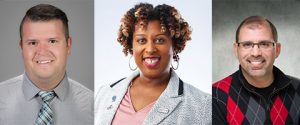 PA and PT Admissions in the Time of COVID-19:  A Panel Discussion 
Presenters: Jeremy Turkall, MS; Erika Brooks, CSPO  and Thomas O'Shea, PhD, MEd
Session: September 10, 2020 at 12pm Eastern Time
PT – This session will cover the changes to Physical Therapy Centralized Application System (PTCAS) and Physical Therapy Admissions due to COVID-19, and also updates made to better accommodate prospective students and DPT programs.
PA – The global COVID-19 Pandemic has changed the daily lives of individuals across the globe. One area that has been greatly affected has been the healthcare industry. As Physician Assistant (PA) Programs across the country begin to recruit, assess and select individuals to start in their PA Programs since COVID-19, it is important to realize that the "academic landscape" has changed. Come learn about how the University of Iowa PA Program has repurposed their recruitment, assessment and selection process for applicants since the global pandemic.
Register your institution here