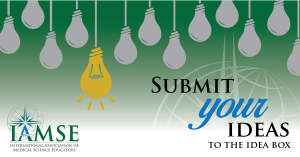 Do you have an idea for the IAMSE website, a meeting, or anything else IAMSE related? Add it to the IAMSE idea box!
To access the idea box, log in to the IAMSE member site here. Once logged in, click "Manage Profile" at the top right of the page and then scroll to where it says, "Content and Features." Under this heading, you will find the Idea Box.
If you have any questions or difficulties with the idea box, contact Brandi Hinkle at brandi@iamse.org.