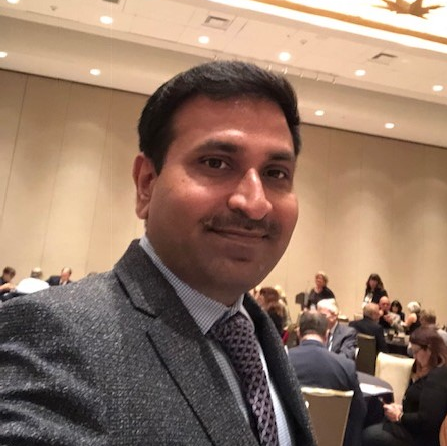 Our association is a robust and diverse set of educators, researchers, medical professionals, volunteers and academics that come from all walks of life and from around the globe. Each month we choose a member to highlight their academic and professional career, and see how they are making the best of their membership in IAMSE. This month's Featured Member is Dr. Sateesh Arja.
Sateesh Arja, MD, MPH, SFHEA, FAcadMEd, AFAMEE
Associate Professor of Clinical Skills and Medical Education
Executive Dean
Avalon University School of Medicine
Curacao, Caribbean
How long have you been a member of IAMSE?
I have a year of membership.

As a member of the 2019 Program abstract review team, what drew you to the role?
This is a way that we can evaluate abstracts but also we can learn from them. I like to review the other researchers then we can guide them and give them feedback, which I really wanted to do.

What has your experience been like with IAMSE and working on the 2019 program?
My experience with IAMSE has been wonderful. I joined last year because I like to engage in medical education. This year during review, the Program (Committee) sends us the abstracts to review independently. They sent me ten to review.

What is your assessment of the abstracts that you reviewed this year?
They were actually wonderful! There were a wide variety of abstracts including a lot of topics of interest given by these associates. The abstracts I reviewed were more focused on interprofessional education (IPE) and transprofessional education (TPE).

What interesting things are you working on outside the Association right now?
I am part of at least 10-13 organizations currently as well as the Society of Directors of Research in Medical Education(SDRME). They have opportunities for people working outside the US. Currently I am working on research project titled "Consequences of ECFGMG's 2023 Directive on Caribbean Medical School's Processes". I led the change process of curriculum from a discipline-based curriculum to an integrated curriculum at our university which was published in Medical teacher journal titled "Integrated Curriculum and the Change Process in Undergraduate Medical Education". I am the leading author for this research paper. My passion for education, especially in medical education, motivated me to join in Masters in Health Professions Education. I finished the post-graduation diploma in Health Professions Education by FAIMER, Center for Medical Education in the Context, and Keele University, UK and expecting to be graduated with Masters in the year 2019.
For more information on the poster, oral and workshop abstracts at the 2019 IAMSE Annual Conference, please visit our website at www.iamseconference.org.