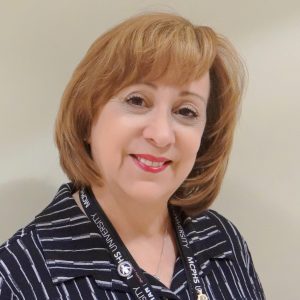 Our association is a robust and diverse set of educators, researchers, medical professionals, volunteers and academics that come from all walks of life and from around the globe. Each month we choose a member to highlight their academic and professional career, and see how they are making the best of their membership in IAMSE. This month's Featured Member is Dr. Robin Harvan.
Robin Ann Harvan, EdD, FACE, FIAMSE
Professor and Director of Health Sciences Programs, Co-Chair of Interprofessional Education Committee
Massachusetts College of Pharmacy and Health Sciences University
How long have you been a member of IAMSE?

When I was Director of the Office of Education at the University of Colorado Health Sciences Center, I completed the Association for Medical Education in Europe (AMEE) Essential Skills in Medical Education (ESME) Program. After relocating to Boston, I wanted to complete the IAMSE Fellowship requirements, so I joined the organization in 2015 and was inducted as an IAMSE Medical Educator Fellow in 2018.In your time with the association, what have you been up to? Committee involvement, conference attendance, WAS series, manuals, etc.? How have you interacted with IAMSE?
Since joining IAMSE, I have attended the annual meetings in California (2015), Vermont (2017), Nevada (2018) and Virginia (2019). My primary involvement with IAMSE has previously been focused on completing the fellowship requirements and interacting with mentors and fellows. I presented a poster on my fellowship study proposal in 2017 and the results of my study in an oral presentation in 2018 at the annual IAMSE meetings. The manuscript was accepted for publication in the Medical Science Educator journal and published online in September 2019.  [DeMasi, J., Harvan, R.A., and Luca, M. (2019). Online and In-Class Team-Based Learning in Undergraduate Immunology: a Comparative Analysis. Medical Science Educator. Retrieved from: https://link.springer.com/content/pdf/10.1007%2Fs40670-019-00814-1.pdf]What has been your experience working on the 2020 Annual Meeting in Denver?
When I learned that the 2020 Annual Meeting would be in Denver where I lived and worked previously, I enthusiastically volunteered to serve on the Program Planning Committee. It was at our convening meeting of the committee via video conference, that we were asked to brainstorm a theme for the meeting. Given my personal history living in the Mile High City of Denver and my love of the Rocky Mountain region, I suggested the theme: Scaling New Heights: Envisioning the Future of Health Sciences Education, which was well-received and adopted by the committee. I have enjoyed working with the members of the committee and look forward to the 24th IAMSE Annual Meeting in Denver, June 13-16, 2020.What interesting things are you working on outside the Association right now? Research, presentations, etc.
I have deliberativey devoted my career to Interprofessional Education (IPE) and Interprofessional Collaborative Practice (IPCP) in Healthcare for over three decades. I co-chair the IPE Education Committee at MCPHS University in Boston and I am a member of the IPE Leadership Team across our three campuses to include Worchester and Manchester campuses. I also serve as Lead Evaluator and Co-Investigator on a $3.5M cooperative agreement with HRSA at the national Center for Integration of Primary Care and Oral Health (CIPCOH) at Harvard University. CIPCOH serves as a national resource for systems-level research on oral health integration into primary care training with special emphasis on training enhancements that will train primary care providers to deliver high quality, cost-effective, patient-centered care that promotes oral health, addresses oral health disparities and meets the unique needs of all communities https://cipcoh.hsdm.harvard.edu/.

As a member, what is a standout benefit that keeps you engaged in IAMSE?

The IAMSE professional community is the most outstanding benefit of membership that keeps me engaged. The opportunities to connect and collaborate with outstanding colleagues across the global community engaged in advancing and enhancing health sciences education are exceptional.Anything else that you would like to add?
IAMSE is interdisciplinary, interprofessional and international. The benefits of membership are outstanding. I am not only an advocate for IAMSE membership, I strongly endorse engagement of all who are members.
To find out more about the annual meeting in Denver, and to register, please go to www.iamseconference.org