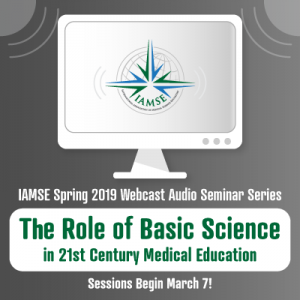 Join us every Thursday in March and the first Thursday in April for the IAMSE Spring 2019 Webcast Audio Seminar Series. 

The theme for the Spring series is "The Role of Basic Science in 21st Century Medical Education" where we will feature several speakers from across the US and Europe. Speakers will discuss topics such as the changing roles of the basic science educator, going lecture free, and the role of foundational sciences in clinical years. 
As always, IAMSE Student Members can register for the series for FREE! Email support@iamse.org for more information.

Details about the series will be coming soon, so stay tuned. For more details on the upcoming Winter 2019 series or our archives, please visit www.iamse.org.