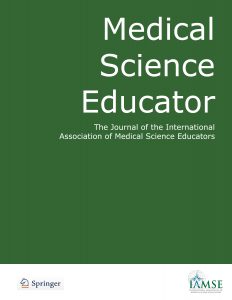 Each month the IAMSE Publications Committee reviews published articles from the archives of Medical Science Educator or of its predecessor JIAMSE. This month's review, written by Dr. John L. Szarek, is taken from the article titled Using Small Case-Based Learning Groups as a Setting for Teaching Medical Students How to Provide and Receive Peer Feedback, published in the Medical Science Educator, Volume 27, (pages 759–765), 2017 by EC Bird, N Osheroff, CC Pettepher, WB Cutrer, and RH Carnahan.
PLeaSe Sir, I want some more (Feedback)!
With apologies to Charles Dickens, how many times have students asked for feedback, let alone more? When giving feedback, students often provide superficial comments because they do not want to dis their peers. Giving and receiving feedback is critical in the development of health professionals, both novice and experienced. Yet, feedback is misunderstood. To get the most out of feedback, students (and faculty) need development but the best method and venue needs to be better defined. In the September 2017 issue of Medical Science Educator, Emily Bird and colleagues at Vanderbilt University School of Medicine describe a model to teach students how to provide and receive peer feedback. The Feedback PLeaSe! Method which they developed is taught and used in case-based learning (CBL) sessions during which a faculty facilitator meets with 8 students. The authors propose that this is the ideal venue since it represents a safe setting for learning and more closely mirrors interactions in the clinical workplace.
The Method is divided into three phases, preparation, listening and summarizing. In the preparation phase, the facilitator describes the concept of providing and receiving in-person feedback and the process that will be used in the CBL sessions. In the second part of the preparation phase, the facilitator provides training on the nature of useful feedback. Here the facilitator uses the acronym STAR (Specific and observable, Timely, Actionable, and Received) to help students remember the characteristics of effective feedback in a simple way. Learners are provided a schedule for feedback interactions during which one student will receive feedback from each of their peers at the end of a CBL session. In the listening phase, the listening receiver receives from each group member one comment on an aspect of the receiver's performance that was particularly helpful, and one comment on a specific aspect which could be improved. The students are encouraged to focus their feedback on issues related to the CBL group process. During the summary phase, the receiver provides a summary of what was heard in order to establish that the feedback was accurately received and understood. The facilitator observes the process and offers comments as appropriate to help students become more skillful.
Learner reactions to the process were positive and comments by students suggested that their feedback skills improved. As with many activities in small groups, however, the facilitator is key. The facilitator needs to value the activity and help students provide high-quality feedback. The Feedback PLeaSe! Method is simple and can be adapted to other facilitated small group sessions.
John L. Szarek, PhD, CHSE
Professor and Director of Clinical Pharmacology
Education Director for Simulation
Geisinger Commonwealth School of Medicine
Member IAMSE Publications Committee
---

Want access to over 40 archived issues and more than 800 medical science articles? Visit Medical Science Educator online here for access to every issue since 2011!