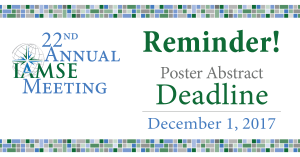 The deadline for poster abstract submission is quickly drawing near! As a reminder, IAMSE is currently accepting Oral and Poster abstract presentations to be presented at the 22nd Annual IAMSE Conference. The deadline for submission is Friday, December 1, 2017 at 5 PM ET!
Please click here to submit your abstract
Please note: The first time you enter the site, if you have not already done so previously, you will be required to create a user profile.
The 2018 IAMSE Meeting will be held in Las Vegas, Nevada from June 9-12, 2018. All abstracts for Oral and Poster presentations must be submitted in the format requested through the online abstract submission site. Authors will be notified with a decision regarding their abstract submission by March 1. There is no limit to the number of abstracts you can submit.