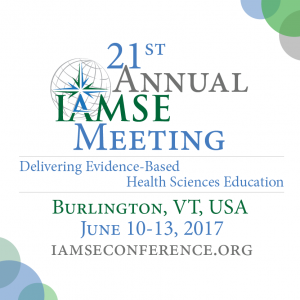 The poster abstracts for the 2017 IAMSE Meeting are now listed online. Abstracts are listed in one of eight categories:
Assessment & Evaluation;
Curriculum & Evaluation;
E-Learning;
Instructional Methods;
Other;
Student Support;
TBL/PBL;
Technology Innovation
This year, we have 17 posters that are in the running for the Best Poster Presentation Award. This award recognizes the most outstanding medical education peer-reviewed presentation at the IAMSE Annual Meeting. The first author on the winning poster will receive a plaque, one year of IAMSE membership, and access to one series of the IAMSE Audio Seminars.
A full listing of this year's Best Poster Presentation Award nominees may be found online here.
Have you registered for the 2017 IAMSE Meeting? Registration is still available online at iamseconference.org! We hope to see you there!