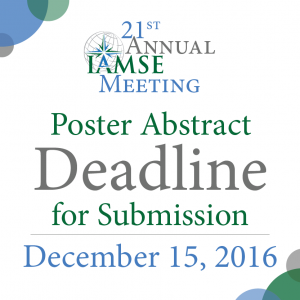 The International Association of Medical Science Educators (IAMSE) is pleased to announce the call for abstracts for Oral and Poster presentations for the 21st Annual IAMSE Conference to be held in Burlington, Vermont from June 10-13, 2017. The IAMSE meeting offers opportunities for faculty development and networking, bringing together medical sciences and medical education across the continuum of health care education.
Please click here to submit your abstract today.
Please note: The first time you enter the site, you will be required to create a user profile. All abstracts for Oral and Poster presentations must be submitted in the format requested through the online abstract submission site.
Submission deadline is December 15, 2016. Abstract acceptance notifications will be returned by March 1.
Students – Would you like someone to review your proposal before you submit it? If so, the IAMSE Student Research Committee members will review your proposal and give you feedback to improve your proposal. The deadline for this optional review is November 14, 2016 (one month before the actual submission deadline). Please send your proposal to colleen.croniger@case.edu.