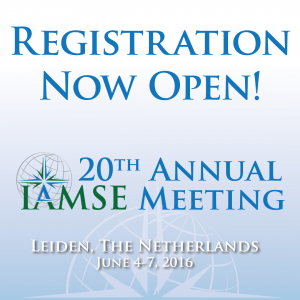 This year the Grand Extravaganza of the IAMSE Annual Meeting in Leiden will take us to Utrecht. This city in the center of the Netherlands is one of the oldest Dutch cities and has been very influential in the past. There are still remains visible from the Roman empire of 2000 years ago.
The participants of this activity will do a guided city tour (walk), followed by a guided boat tour through the canals ending up with a dinner at city castle Oudaen. Transportation from the conference hotel to Utrecht and back will be by coach.
The Grand Extravaganza is scheduled for Tuesday, June 7, 2016 and costs $150 per person. The fee covers all transportation, food and beverage, and all fees associated with the tour. The number of places is limited, so make sure you register in time for the IAMSE Conference and the Grand Extravaganza through the website www.iamseconference.org.
We hope you'll be in Leiden for the meeting and that you will join us on this exciting tour to Utrecht!