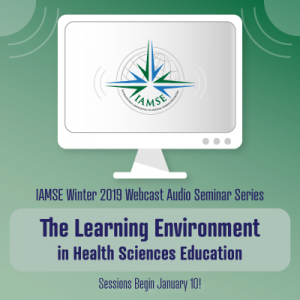 The 2019 winter series of the IAMSE webinar program focuses on the role of the learning environment in health science education. The significance and importance of the learning environment is based on the assumption that a poor environment is associated with poor student performance, burn-out and stress. Our fourth session in the series will be a panel discussion featuring Luke Mortensen, PhD, FAHA, FNAOME; Cindy Anderson, PhD, RN, APRN-CNP, ANEF, FAHA, FNAP, FAAN; and Karen Hills, MS, PA-C.
The Learning Environment Panel Discussion
Presenters: Luke Mortensen, Cindy Anderson and Karen Hills
Session: January 31, 2019 at 12pm Eastern TimeThe panel will include a brief overview of the Learning environment from three different perspectives: nursing, osteopathic and PA education. Following those overviews, the panelists will engage in a live Q&A with the moderator and audience.

From Dr. Mortensen: Within the osteopathic medical learning environment, the considerations – not unlike those of other health education learning paradigms – encompass social, academic, professional, psychological, and physical settings and frameworks as they influence how people learn, organize, and collaborate together. We will discuss different approaches and on-going concerns within the academic setting to positively affect teaching and learning.

From Dr. Anderson: At the Ohio State College of Nursing, our learning environment is illustrated by our commitment to LIVE WELL (Lead, Innovate, Vision, Execute, be Wellness-focused, Evidenced-based, Lifelong learnings and Lights for the world, locally and globally). Evidence for our successful establishment of an effective environment for student learning in Nursing is our redesignation as a National League for Nursing Center of Excellence, recently awarded for our contributions to the development of an environment that promotes student learning and professional development. Process and outcome evaluation informs efforts to refine approaches and promote an effective learning environment.

From Ms. Hills: Using the Gruppen review article as a backdrop, this portion of the webinar will focus on learning environment in PA programs. At the conclusion of the webinar, attendees will be able to discuss the components of how PA programs consider learning environment through personal, social, organizational, physical and virtual lens, thus adding to the interprofessional dialogue allowing for the identification of the elements of learning environments that are shared across the health professions. New accreditation standards for PA programs are being released Fall of 2018. This presentation will describe the role the learning environment has in program accreditation.