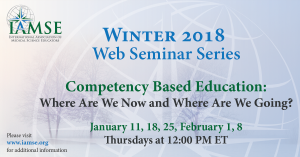 Registration is now open for IAMSE Webinar Series Winter 2018! Sessions begin on Thursday, January 11, 2018.
Competency Based Education: Where are we now and where are we going?
The Winter 2018 IAMSE Web Seminar Series focuses on the current state of Competency Based Education across the health professions and its future directions. The series begins with an overview of current assessment theories, tools and practices and explains how these have been adapted to better reflect learners' attainment of competency within a competency based framework. This is followed by a session that explores the relationship between memory and learning and describes strategies to better prepare and equip learners to achieve success within a competency based framework. The AAMC Core EPA work group next provides an update on the integration of "entrustment activities and entrustment assessment tools" into a competency based framework. The following presentation explores the benefits, challenges and outcomes of incorporating Longitudinal Integrated Clerkships (LICs) into competency based medical education. The series closes with an appraisal of the Education in Pediatrics Across the Continuum (EPAC) curriculum as a content-focused, "continuous" competency based model that spans undergraduate and graduate medical education. Upon completion of this series, participants will be better able to describe the evolution of competency based education in the health professions. Participants will also be able to identify opportunities within their own institutions for adopting and adapting a competency based educational framework.
January 11 – Competency-Based Medical Education: Understanding the Principles – Presented by Linda Snell
January 18 – Integration, competence and expertise: Preparing learners for the future – Presented by Nikki Woods
January 25 – Generating Trust in Entrustment: an update from the AAMC Core EPA Pilot Group – Presented by Kim Lomis
February 1 – Continuity, LICs and Competency-based Education – 2018 – Presented by Molly Cooke
February 8 – Competency based education across the UME-GME continuum: the EPAC program – Presented by Debbie Powell
For more information or to register, please click here.