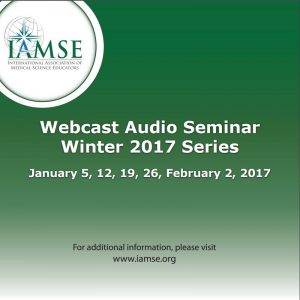 In case you missed last week's Webcast Audio Seminar Series, here's the highlights of the session:
Cultivating Resilience and Reducing Burnout for Health Professionals: The Power of Presence, Reflective Practice and Appreciative Dialogue
Mick Krasner MD
University of Rochester School of Medicine and Dentistry
Summary:
The current crisis in the practice of Medicine is influenced by crises of meaning, identity, purpose and role.
To offset burnout, it is imperative to create capacity as individuals and organizations to build resilience and a sense of accomplishment in work life.
Resilience is an integrated way of learning, a capacity that can be cultivated and grown. Humans are uniquely designed for this.
Cultivating resilience involves reimagining how one views stress and how one sees his/her capacity to cope with stress.
In order to build resources for resilience, one must engage with the environment, acknowledge uncertainty, face difficulties head-on, appraise one's relationship with stress and develop perspective-taking skills.
Physician well-being and burnout inform both quality of care and quality of caring.
Three domains characterize burnout: emotional exhaustion, depersonalization and low personal accomplishment. Negative physical, social and psychological environments influence these domains.
There is no "one size fits all" for interventions to address burnout. However, the literature provides many examples of different interventions that have had positive effects in the burnout domains. (Kearney, JAMA, 2009, West et al. Lancet, 2016, West et al. JAMA, 2014, Krasner et al. JAMA, 2009, Beckman et al. Academic Medicine, 2013).
Strategies for addressing burnout and cultivating well-being include: mindfulness, appreciative inquiry and communication and narrative medicine (crafting stories).
Participation in a mindful communication program yielded positive results. Participants identified three domains for enhancing wellness: establishing a sense of community, skills development and self-care (giving oneself permission to take time for self-development).
Wellness is not just for the "at risk" and "floundering;" it needs to be integrated into the formal and hidden curricula and prioritized and institutionalized at all levels of education.
Registration for the Spring WAS Series is now open! Click here for more information or to register today.