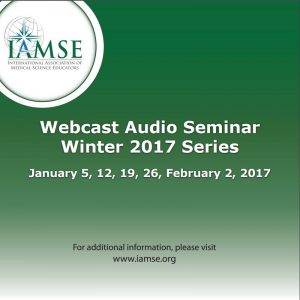 In case you missed last week's Webcast Audio Seminar (WAS) Session, here are the highlights of this session:
Improving Medical Student Mental Health: A Multi-faceted Approach
Stuart Slavin MD, MEd
Saint Louis University (SLU) School of Medicine
Summary:
Statistical indicators for moderate to severe depression and anxiety rates across the spectrum of physician training (medical students, residents, physicians) are alarmingly high.
Investing in well-being improves cognitive functioning.
Rather than mistreatment, medical students are mostly demoralized by working with unhappy residents, unhappy faculty and the subjectivity and perceived unfairness of grading.
It is imperative to improve the clinical learning environment and enhance the well-being of the residents and faculty who train medical students.
Making improvements across the clinical learning environment includes a focus on: workload, control, rewards, community, fairness and values.
The SLU Mental Health Initiative, which began in 2009 sought to develop a new model for mental healthcare for medical students that is not limited to the preclinical years. This model is designed to decrease the unnecessary stressors in the learning environment, create opportunities for students to find and sustain meaning in their work and increase students' ability to deal with stress.
Curricular interventions were designed to cultivate mindfulness, metacognition and resilience without a huge investment of time. Key constructs of resilience include: cognitive restructuring (maladaptive perfectionism, imposter syndrome, cognitive distortions) negativity bias, optimistic vs. pessimistic explanatory styles, positive emotions and emotional self-regulation.
Current data from the SLU Mental Health Initiative indicate reduced levels of depression and anxiety for first and second year medical students.
Lessons learned: more is not necessarily better and overloading students has a negative impact on their mental health, an emotional reaction can modify the outcome of an adverse event, toxic learning environments override resilience, the origins of mental health are multi-factorial and synergistic; changing one variable is not sufficient.
For further details about the SLU Mental Health Initiative, contact Dr. Stuart Slavin slavinsj@slu.edu.