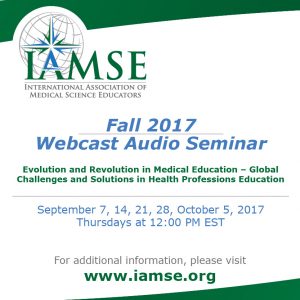 IAMSE is pleased to announce the Fall 2017 Webcast Audio Seminar Series!
Evolution and Revolution in Medical Education – Global Challenges and Solutions in Health Professions Education
The Fall 2017 IAMSE Web Seminar Series takes on an increased international flavor as presenters review health professions education around the world each with unique challenges and solutions. The goal of this series is to foster the exchange of ideas in the community of health science educators. Continuing with our longitudinal focus on competency-based-education, the series begins with an overview of medical education in Canada with an emphasis on the initiatives of the International Competencies in Basic Medical Education (ICBME). From the Far East, we will hear a presentation on Chinese medical education (World-China initiative) which places an emphasis on primary care in China. A panel will provide an overview of the European model of health professions education from globalization of education to global healthcare. Another presentation will explore medical education challenges and solutions in Sub-Saharan Africa. The series will conclude with a session focusing on an integrated model of medical care: childhood disease prevention in South America. At the end of the series the audience will be able to identify global challenges and solutions to medical education that may provide valuable perspectives at the local level.
Registration to open in July. Please visit www.iamse.org for more information.