Say hello to our featured member
Benjamin Robinson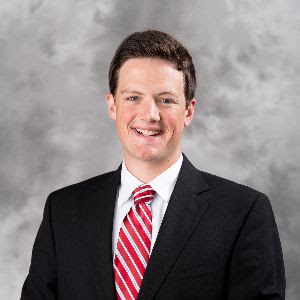 Our association is a robust and diverse set of educators, researchers, medical professionals, volunteers and academics that come from all walks of life and from around the globe. Each month we choose a member to highlight their academic and professional career, and see how they are making the best of their membership in IAMSE. This month's Featured Member is Benjamin Robinson.
Benjamin Robinson
Second Year Medical Student
Campbell University School of Osteopathic Medicine
Lillington, North Carolina, USA
How long have you been a member of IAMSE?
I have been a member of IAMSE since 2019.
In your time with the association, what have you been up to? Committee involvement, conference attendance, WAS series, manuals, etc.? How have you interacted with IAMSE?
In my time with the organization, I have been constructing a manuscript to submit to Medical Science Educator regarding my research with augmented reality anatomy education. I have also been preparing to attend my first annual conference with IAMSE. I look forward to becoming more involved with the organization by participating in the IAMSE Webcast Audio Seminar Series. 
Tell me more about your oral presentation "EVALUATING THE USE OF AUGMENTED REALITY TO TEACH RESPIRATORY ANATOMY"?
My oral presentation will discuss the benefits and limitations of using augmented reality (AR) to teach gross and microscopic anatomy to medical students in a small group learning environment. Specifically, I will analyze the impact of AR on promoting short and long-term anatomical knowledge retention and improving perceived anatomy understanding. Student feedback from use of AR will also be examined. Lastly, implications for further use of AR in anatomy education will be evaluated.
What interesting things are you working on outside the Association right now? Research, presentations, etc.
Outside of IAMSE, I have been collaborating with leaders of the mixed reality learning industry regarding the improvement and practical implementation of mixed reality applications in health science education.
As a member, what is a standout benefit that keeps you engaged in IAMSE?
IAMSE offers a tremendous opportunity to network with a diverse array of health science students and educators. The connections made through my involvement with IAMSE will further inspire and assist my career ambitions of becoming a physician educator. I am also looking forward to the opportunity to share my research and receive feedback from an international audience of IAMSE members at the 2020 meeting in Denver.
Anything else that you would like to add?
As a new member of IASME, I look forward to a career of involvement with the organization. I am thankful for the opportunity to help advance health science education.
For more information on this year's annual conference, and to register, please visit www.IAMSEconference.org.