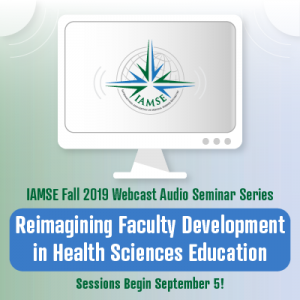 [The following notes were generated by Will Brooks, PhD.]
IAMSE Webinar Series, Fall 2019
Speaker: David Rogers MD, MHPE, FACS, FAAP and Melissa Klein MD, MEd
Title: Innovative Faculty Development Programs: Two Case Studies
Series: Re-imagining Faculty Development in Health Professions Education
The IAMSE 2019 Fall Webinar Series, Re-imagining Faculty Development in Health Professions Education, continued on September 26, 2019 with a presentation by Dr. David Rogers, Senior Associate Dean for Faculty Affairs and Professional Development at the University of Alabama at Birmingham, and Dr. Melissa Klein, Professor of Pediatrics at the University of Cincinnati College of Medicine. Their webinar entitled "Innovative Faculty Development Programs: Two Case Studies" provided listeners with a close look at two longitudinal faculty development programs directed by the presenters.
Dr. Rogers led the webinar off with a description of the University of Alabama at Birmingham Healthcare Leadership Academy (HLA), which is co-sponsored by the UAB School of Medicine and Collat School of Business. The HLA was developed to provide leadership training to both faculty and staff who had the potential to take on leadership roles within the institution – emergent leaders. The program is funded through a philanthropic gift, which has prevented participants from needing to fund their own participation. The HLA operates with four educational goals:
Teach participants about the history and operations of the health system and academic health centers.
Enhance and develop the leadership abilities of the participants.
Facilitate the development of strategic thinking skills, focusing on opportunities and challenges facing academic health centers.
Activate participants' evaluation of their own individual aspirations, strengths, weaknesses, and commitment to leadership.
Participants are selected by an advisory group from among nominations across multiple units within the academic medical center including the Schools of Medicine, Dentistry, Health Professions, Nursing, Optometry, and Public Health. Each cohort of participants represents a diverse group of faculty and staff including emergent and established leaders. Dr. Rogers noted that the diversity of each group is an enriching element of the program. To date, 260 individuals have taken part in the HLA in its first decade (2009-2019).
The HLA is a seven-month program that includes an opening weekend retreat held off-campus, monthly day-long sessions, individual readings, and small group projects. The opening weekend includes participation in physical challenges as part of a high-ropes course, which allows participants to step away from their professional identity and build trust and teamwork. Monthly meetings include a range of topics including leadership and strategic planning, communication, negotiation, building a vision, and academic medical center finance and operations. Time is also allocated at each monthly meeting for small group work and networking. Each small group conducts a project throughout the program that culminates in a group presentation and submitted white paper. Rather than scholarship, most projects address a practical problem faced by the medical center or one of its units. Individual readings are taken from the assigned book, The Leadership Challenge by James Kouzes and Barry Posner as well as journal articles.
Dr. Klein continued the webinar with a description of the Academic Pediatric Association's Educational Scholar's Program (ESP). The ESP was developed to provide training to academic pediatricians in the area of educational scholarship, which Dr. Klein defined as the dissemination of curricular innovations, evaluation tools, and teaching methodologies. Because the ESP is housed within a national professional association, mentorship, collaboration, and networking between individuals at different institutions have become an important element of the program.
The Educational Scholars Program was initiated in 2006. Scholars enrolled in the 3-year program complete a longitudinal curriculum and mentored educational research projects. Four key components comprise the ESP: educational scholarship skills, mentorship, an educator portfolio, and networking. The first year of the curriculum focuses on educational scholarship and includes a day-long session at the Academic Pediatric Association's annual meeting, asynchronous online coursework, and monthly calls with peer groups. During this year scholars will identify their scholarly project. In year 2, the focus shifts to the nuts and bolts of educational research. Instruction in both quantitative and qualitative methodology occurs at the annual meeting and through online coursework. Year three focuses on scholarly dissemination, leadership, and networking; it includes a third full-day session at the annual meeting and additional online coursework.
After 10 years (2006-2016), participants from 80 institutions had taken part in the first 8 cohorts of the ESP. Most of the 170 scholars were women and were at junior faculty ranks. The scholarship output from program participants has included research publications, publications in MedEdPORTAL, national presentations, and educational grants. 98% of graduates have reported at least 1 publication, funded grant, or educational leadership position.