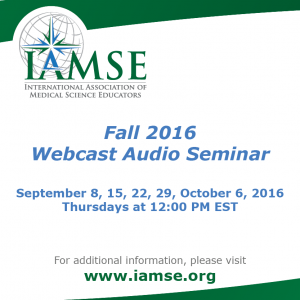 In case you missed yesterday's Webcast Audio Seminar (WAS) Session, here are the highlights of this session:
Entrustment deciscion making in EPA-based curricula
Olle ten Cate, Ph.D.
University Medical Center Utrecht
Competency-based ME

Widely accepted
Based on competence, and not the amount of time spent in training
Analytic framework approach where the feature of the doctor is divided into seven areas, Medical Expert, Collaborator, Communicator, Manager, Health Advocate, Scholar and Professional.
Several issues with this approach that lead to creating competencies in practice

Entrustable Professional Activities

Defined as "units of professional practice (tasks) that may be entrusted to a learner to execute unsupervised, once he or she has demonstrated the required competence.
EPAs and competency are not the same
EPAs are units of work that must be done whereas competencies are a trait of an individual.
EPAs are work descriptors and competencies are person descriptors

Current Issues in the Work Place

Assessment scores tend to be too high, not willing to assign failing grades
Assessment based on one feature rather than all areas
Assessments are not reproducible, standardized, subjective
Exposes a need for a reliable test
Observations cannot always be turned in to a score.

Entrustment as an Assessment

Included several articles on this subject
Recognize ability + right + duty to act
Typical learner assessment tends to focus on evaluation of ability
Entrustment of learners tend to combine the evaluation of ability with the permission to act
and the readiness to be scheduled for service.
Values of those we trust: ability, integrity, reliability and humility
Two modes of Entrustment decisions

Ad-hoc: happens daily, based on presumptive and initial trust
Summative: based on grounded trust
For more information on the next sessions or to register, please click here.