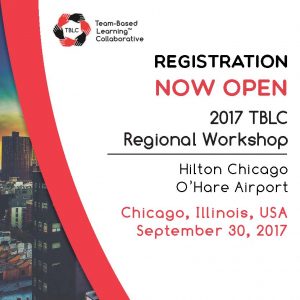 The Team-Based Learning Collaborative (TBLC) will be offering an all-day workshop on team-based learning at their 2017 Regional Workshop in Chicago, Illinois on September 30, 2017. This workshop is split into two sessions, TBL 101 and Creating an Effective TBL Module, which will help you learn the basics of implementing TBL in your classroom.
The morning session will be TBL 101, which is the single best introduction to TBL. It is conducted in a TBL format, participants must prepare ahead, take an IRAT, and engage actively with their assigned team members. The structure, process, and essential characteristics of an effective TBL module are emphasized.
At the end of this workshop, the participants will be able to:
Describe the fundamental principles that foster active learning in small groups
Identify the key elements of TBL
Appreciate the value of "backward design"
Define the 4S approach to effective in-class applications
Identify barriers to implementation and strategize solutions
The afternoon session is set aside for learning how to create an effective TBL module. This workshop is for educators who have completed the introductory workshop on Team-Based Learning™ – TBL 101. The entire workshop is conducted in a TBL format and there is an advance assignment.
Participants will practice and develop skills for creating effective Team-Based Learning modules by participating in the following activities:
a clarification of the process and importance of readiness assurance
a differentiation of the levels and types of application exercise questions
an opportunity to practice writing objectives for an application exercise writing an application exercise and comparing and contrasting the application exercises of others
For more information or to register for the TBLC Regional Workshop, please click here.