The International Association of Medical Science Educations (IAMSE) would like to congratulate the winner of the 2017 Master Scholar award.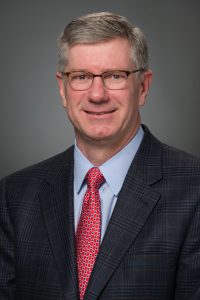 William B. Jeffries, Ph.D.
Professor of Pharmacology and Senior Associate Dean for Medical Education
University of Vermont
Burlington, Vermont
William B. (Bill) Jeffries, Ph.D. is a Professor of Pharmacology and the Senior Associate Dean for Medical Education at the Robert Larner, M.D. College of Medicine at the University of Vermont. Dr. Jeffries earned his master's and doctoral degrees in pharmacology from the Philadelphia College of Pharmacy and Science. While in graduate school he began his 37-year education career as a graduate assistant, teaching freshman biology labs. He did his postdoctoral fellowship at the University of Texas Southwestern Medical Center in Dallas in the Department of Pharmacology.
After his fellowship, Dr. Jeffries joined the faculty at Creighton University. There he was elected Fellow of the Council for High Blood Pressure Research of the American Heart Association and spent two decades as a successful research investigator in hypertension and molecular pharmacology. At Creighton he became very active in health sciences education, teaching and directing courses for medical, nursing, pharmacy, dental and graduate students. He assumed a leadership role in graduate education as director of the Pharmacology Graduate Program for 7 years. He also developed an NIH-funded program to help prepare underrepresented minority students for research and medical careers. This program continued at Creighton for 15 years. He was also a driving force in medical curricular reform, overseeing the integration of Pharmacology content in a major curricular change at Creighton.
These early experiences led to Dr. Jeffries' scholarly efforts in education, including effective teaching through active learning, curriculum design, strategic institutional planning and technological innovation. Dr. Jeffries served on the IAMSE Board of Directors for 7 years and is a past chair of the Division for Pharmacology Education of the American Society of Pharmacology and Experimental Therapeutics. He has also served on several national groups and committees of the Association for American Medical Colleges and as a faculty member in its LEAD mentorship program. He has been a long term contributor to IAMSE and its programming, contributing numerous workshops and seminars. He has authored over 100 scholarly works.
Dr. Jeffries primary scholarly interest today is faculty development. He has made over 70 education presentations, seminars, and workshops regionally, nationally and internationally with the goal of improving medical teaching. Jeffries is coeditor (with Dr. Kathryn Huggett) of two editions of An Introduction to Medical Teaching, a faculty development manual for medical educators. He is a contributing author to many other medical teaching works, including IAMSE's How-To Guide for Active Learning, A Practical Guide for Medical Teachers, Knowledge Objectives in Medical Pharmacology, the Guidebook for Clerkship Directors, 4th and 5th Editions, and The Eight Roles of the Excellent Medical Teacher. He is an outspoken proponent of active learning, and his advocacy for its use in medical education has been featured in many medical education meetings, the New York Times, Boston Globe, the AAMC Reporter, the Chronicle of Higher Education and the US News and World Report.
The Master Scholar Award recognizes an IAMSE member who has a distinguished record of educational scholarship, including educational research and/or dissemination of excellent and scholarly approaches to teaching and education. This could include development of multimedia medical educational programs, research in the areas of curriculum design and evaluation, student assessment, or innovative programs and methods.