IAMSE now offers an open forum for any writer, editor, researcher or student member looking to collaborate or get feedback on their writing projects. Located on the 
member's-only website
 under the Connecting with IAMSE tab, 
IAMSE Writing Groups
 offer blogs and forums for member collaboration.
To begin posting, simply click the Join the Group link. From there, you can post, ask questions, join a group or start your own!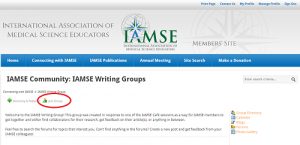 If you have any trouble with the online writing group please feel free to reach out to support@iamse.org.