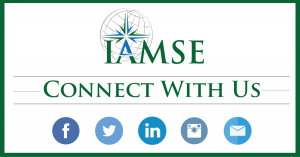 The IAMSE Admin team has grown. To better support your membership needs, it may be helpful to know our members and what they do for IAMSE.
Julie K. Hewett, CMP
Association Manager
Julie has been supporting IAMSE for over 17 years in many different ways. Currently, she is responsible for Board and Committee support and conference management. Julie will continue to oversee the rest of the management team to support the overall needs of the Association.
Brandi Hinkle
Account Manager, Membership Support
Brandi's role with IAMSE will be as the first point of member contact whether by phone or email. She will be helping to manage the day-to-day operations of the Association and will be available to answer questions regarding memberships, web audio seminars and upcoming Association activities.
Amoritia Strogen-Hewett
MSE Editorial Assistant, Conference Logistics
Amoritia currently serves as the Editorial Assistant for Medical Science Educator. She will also play a major role in abstract management for the conference as well as on-site logistics.
Kyle Hewett
IT Manager, Conference Logistics
Kyle will be providing IAMSE with his technical expertise in server and website maintenance. He will be working behind the scenes with the Website Committee to evaluate the current website as well as work to improve the services it provides.
Alex Strogen
Graphic Designer
Alex creates graphics for the association while also handling any of the marketing needs that may arise.
Danielle Inscoe
Communications and Website Manager
Danielle manages the social media aspect of IAMSE. She helps create posts to get the word out about what goes on within the organization. She also ensures the website for IAMSE is always up to date while also helping get new content posted as it becomes available.
How to Connect with the Team:
IAMSE
c/o JulNet Solutions, LLC
1404 1/2 Adams Avenue
Huntington, WV 25704
Phone: 304 522 1270
Fax: 304 523 9701
Email:
Julie Hewett: julie@iamse.org
Brandi Hinkle: brandi@iamse.org
Amoritia Strogen-Hewett: amoritia@iamse.org
Kyle Hewett: khewett@iamse.org
Alex Strogen: alex@iamse.org
Danielle Inscoe: danielle@iamse.org
Facebook: https://www.facebook.com/MedicalEducator/
Twitter: https://twitter.com/iamse
Instagram: http://www.instagram.com/mededucator
Website: http://www.iamse.org