As a participating partner, IAMSE is pleased to announce that registration is now open for the 2021 Asia Pacific Medical Education Conference (APMEC) to be held January 22 – 24, 2021. The meeting will be conducted online. The theme of next year's meeting is "Continuing Medical Education: Building Resilience in Challenging Times – Trends ● Issues ● Priorities ● Strategies (TIPS)."
More information regarding the meeting can be found here.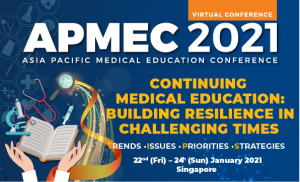 The conference focus will be to explore and share expertise on how best to develop a holistic healthcare practitioner who will be able to effectively and efficiently manage future practice challenges during challenging times. The conference tracks and interprofessional activities to cover undergraduate, residency and specialty training and Continuous Professional Development.
Early bird registration ends September 30. Reserve your spot today!