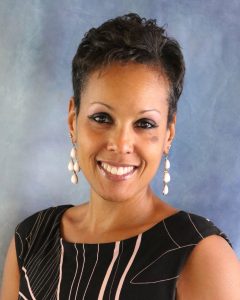 Our association is a robust and diverse set of educators, students, researchers, medical professionals, volunteers and academics that come from all walks of life and from around the globe. Each month we choose a member to highlight their academic and professional career and see how they are making the best of their membership in IAMSE. This month's Featured Member is Jacqueline Powell.
Jacqueline M. Powell, Ph.D.
Associate Professor of Physiology 
Rocky Vista University 
Founding Chair, IAMSE Racial Equity Committee
How long have you been a member of IAMSE?
I have been a member since the 2017 Annual Meeting in Burlington, Vermont
What brought you to IAMSE? Why did you decide to join and how did you get more involved with the Association?
When I first joined IAMSE, I was drawn to the "International" aspect of the organization. Having the opportunity to attend conferences in different countries and meet medical educators from around the world with a similar passion for medical education definitely appealed to my outgoing nature. However, with travels halted by the global pandemic and the nation's racial awakening, my interests in IAMSE shifted. In early 2021, my involvement with the Association increased when I was appointed the Founding Chair of the Racial Equity Committee (REC).
Looking at your time with the Association, what have you most enjoyed doing? What are you looking forward to? Committee involvement, conference attendance, WAS series, manuals, etc.?
Being a sociable person, I have most enjoyed connecting with colleagues, old and new, at the annual conferences and through my involvement with both the REC and Encouraging Growth and Advocacy in Gaining Equity committee. Through the REC, I have been involved in helping the Association advance its efforts with regard to diversity, equity, and inclusion (DEI), particularly in increasing the racial diversity of its membership. Currently, the REC houses a Community of Practice for Black Medical Educators worldwide, providing a space for members to not only receive support, but also engage in networking, mentorship, and collaborative opportunities. For instance, our group presented a Focus Session titled, "Mitigating Implicit Bias in Medical Curricula" at the 2022 Annual Meeting in Denver and recently presented a Recap of this Focus Session for the IAMSE Café series (click here to watch the archive). Members of our committee will again be presenting Focus Sessions and a Pre-Conference Workshop at the 2023 meeting in Cancún.
In addition to working with the REC, I am the corresponding author of an IAMSE manual written by Rocky Vista University (RVU) medical students and educators titled, "Best Practices in Acknowledging and Addressing Racial and Ethnic Health Disparities in Medical Education." For the past two years, this project has been a labor of love and I look forward to it finally being published. It is my hope that our manual will serve as a valuable resource to assist medical educators in helping their students become more culturally competent and equity-minded healthcare professionals. I also look forward to my continued collaborations with the IAMSE leadership in developing initiatives to further promote DEI within the organization.
What interesting things are you working on outside of the Association right now? Research, presentations, etc.
My passion for DEI work extends to my service at RVU as I am the Chair of the RVU-Southern Utah DEI Committee and the University-wide Climate Taskforce, Faculty Advisor for RVU's Asian and Pacific Islander Student Association, as well as a member of the University-wide DEI Advisory Council. However, I am also very passionate about teaching Renal Physiology and participating in scholarly work that involves both nephrology and the promotion of health equity in medicine. Currently, I am advising several students with their research projects, including skin tone discrimination in medicine, student perceptions of university DEI initiatives and preparedness to care for diverse patients, the recurrence of UTIs in children experiencing psychological stress, the role of vitamin D in RAAS and angiogenesis during pregnancy, mitigating racial bias in pain management of Black patients, and medical bias against women in clinical studies, Japan vs. America. I am delighted to be a mentor and provide the students guidance as they prepare to present and publish their work.
Anything else that you would like to add?
I am grateful for the opportunity to create a new network of professional colleagues and honored to be this month's featured member. I would like to thank IAMSE's leadership for their support and encouragement as I become more involved with the Association. IAMSE is a wonderful organization and I look forward to us having a long-lasting relationship as I continue my career in medical education.