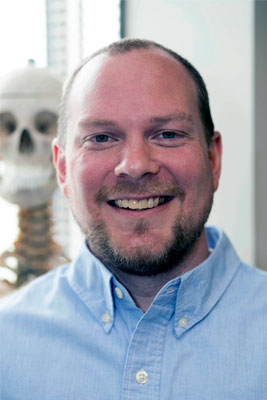 Our association is a robust and diverse set of educators, researchers, medical professionals, volunteers and academics that come from all walks of life and from around the globe. Each month we choose a member to highlight their academic and professional career, and see how they are making the best of their membership in IAMSE. This month's Featured Member is IAMSE Webcast Audio Seminar Committee Co-Chair, Will Brooks, PhD.
William (Will) Brooks, PhD
Professor, Department of Cell, Developmental & Integrative Biology
The University of Alabama at Birmingham School of Medicine
How long have you been a member of IAMSE?
I became a member of IAMSE in 2013 after joining the faculty at the University of Alabama at Birmingham. A colleague at UAB recommended IAMSE as a great professional society in which to become involved due to its basic science education focus and wonderful membership. She was RIGHT!
Looking at your time with the Association, what have you most enjoyed doing? What are you looking forward to?
I have had the pleasure to serve on the Webcast Audio Seminar Committee since 2018, including a present stint as the committee's associate chair. This is most definitely the highlight of my IAMSE involvement. Each month I have the pleasure to work collaboratively with amazing people to brainstorm important topics in health sciences education, plan helpful webinars for the membership and abroad, and interact with webinar speakers who are leaders in their fields. It is these thoughtful, intelligent, and humble educators with whom I am able to work that make this committee so exciting to be a part of.
What interesting things are you working on outside the Association right now? Research, presentations, etc.
For the past several years I have been examining the shortage of anatomists. My colleagues and I have been looking at the various ways that anatomists are trained, the declining number of anatomists entering into the workforce, and the growing number of anatomy faculty positions. Our current project, though, is not so much research-focused but rather solutions-focused. We are currently planning a virtual anatomy think-tank symposium in which stakeholders can brainstorm solutions to the shortage of anatomy educators as well as strategies to improve diversity within our anatomy workforce. I am very excited about the potential that this could have on the profession as a whole as we seek to support medical education with more anatomists and more diverse anatomists.
How is the field of anatomy education changed and adapting during the pandemic and beyond?
Digital anatomy resources have seen increased utilization within education for many years as the technology continues to develop and improve. The pandemic has most definitely increased our reliance upon digital tools as anatomy labs have lain vacant for extended periods of time and social distancing has limited the number of students that labs can accommodate. For me, though, the pandemic has only reinforced the importance of human contact in education. While we can teach anatomy with good outcomes using digital tools alone, the benefits of faculty-student and student-student interaction around an anatomical donor cannot be understated. I would say that the pandemic has introduced us as a collective to new tools for teaching anatomy, but has also demonstrated that there is far more to anatomy education than lists of anatomic structures.
Anything else that you would like to add?
This is an incredibly exciting time to be in medical education. The pandemic has forced a rapid shift in the way that we as basic scientists and medical educators teach and has brought about such incredible innovation. Heightened awareness of issues in diversity and inclusivity has caused everyone to look hard at not only how we can teach students to become better clinicians but also how we as educators can be better. Plus, recent and soon-to-be changes in the USMLE Step examinations will further bring about change in the ways that we teach future physicians. I really can't think of a more exciting time to be a medical educator!
---
Interested in attending one of the upcoming webinars that Will helps develop? Registration is now open for the Spring 2021 Webcast Audio Seminar Series titled, "Strategies for Promoting Inclusivity in Health Sciences Education." Find more information here.
Sessions begin March 4.