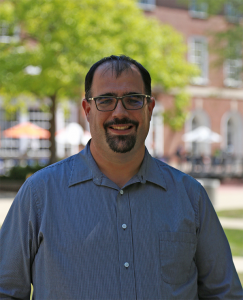 Our association is a robust and diverse set of educators, students, researchers, medical professionals, volunteers and academics that come from all walks of life and from around the globe. Each month we choose a member to highlight their academic and professional career and see how they are making the best of their membership in IAMSE. This month's Featured Member is Sol Roberts-Lieb.
Sol Roberts-Lieb, EdD
Carle Illinois College of Medicine at
The University of Illinois at Urbana-Champaign
Senior Director of Faculty Development
How long have you been a member of IAMSE?
I first joined IAMSE in the Spring of 2018 and attended the 2018 Annual Meeting in Las Vegas. Being new to Medical Education, I wasn't sure what to expect but after a few hours, I realized I found my professional organization family. These were my people.
Looking at your time with the Association, what have you most enjoyed doing?
This is a tough question as there are so many different aspects of IAMSE that I love. While I've loved the in-person meetings, IAMSE Café, WAS, working on Committees (2020 Program Committee, 2022 Program Committee, Onboarding Taskforce), I think my favorite aspect is just the friends I've made. The ability to know people around the world who I could call on for advice, letters of recommendation, partnership in scholarship, and just a friendly ear has meant all the difference. I am truly blessed to meet so many people from such a variety of backgrounds who are willing to help, share their expertise, and mentor in both formal and informal roles.
Tell me more about your upcoming pre-conference workshop session Micro-Scholarship as the 'missing piece' in a successful Scholar's Journey, that you will be co-presenting with Poh Sun Goh.
Poh-Sun and I are excited about this pre-conference workshop. As someone who came to medical education through the administrative route, rather than research, I didn't know how to get started. Many of us are in the same boat and have only seen Scholarship as a finished publication, presentation, or poster. We haven't seen the process. Micro-scholarship tears down many barriers of scholarship by allowing scholars to cultivate existing knowledge, curate the practices and research that are of interest to them, create their own micro-contributions to the field, and converse in supported communities of practice along the way. This workshop, based on an upcoming publication from Poh-Sun Goh, Sol Roberts-Lieb, and John Sanders, will step through the process of Micro-Scholarship, helping participants begin their Scholarship journey or for those more experienced, find new ways to interact within Medical Education Scholarship Communities of Practice.
Tell me a little about your role as Chair of the Onboarding Taskforce. What is the focus of your group? Who are you trying to reach?
IAMSE is an amazing association, providing networking and growth opportunities for its members. The questions for many are, "Where do I start? What can my organization do for me? How do I get involved?" The goal of the Onboarding Task Force (members include Eve Gallman, Ian Murray, Jayne Reuben, Mark Bevensee, Molly Johnannessen, Samar Hegazy, Sandra Haudek, and Todd Nolan with support from Danielle Inscoe) is to find ways to connect with new members and those wanting to re-engage with IAMSE. Our first step is to find ways to consolidate and share helpful tips on getting started with IAMSE. This includes online gatherings where new members can learn about IAMSE and meet with committee members, the New Member Lunch at the Annual Meeting, and then focusing on ways to improve training for committee members to help make a more welcoming organization. We are also open to any ideas from the IAMSE membership on ways to make this a smoother and more engaged process.
What interesting things are you working on outside the Association right now?
There are three big projects that I am working on. One is publishing, with my collaborators, our initial article on Micro-Scholarship. From there, we are working on a Toolkit to make this accessible to others, including potential workshops at other conferences. The second, at Carle Illinois, I am helping to build our new Office of Faculty Affairs and Development. The goal is to create an office that truly supports lifelong professional development for instruction, research, skills, innovation, and entrepreneurialism for all faculty. The third is working on the IAMSE Fellowship, where I am developing a project that examines the role of Faculty Development in the Elective Creation Process
Anything else that you would like to add?
I am excited to have found IAMSE back in 2018 and continue to be involved. It has been a whirlwind and am thankful for all the friends and connections I have made. I challenge all IAMSE members to find a way to connect with someone new. You never know how that one connection can dramatically impact your life.