Our association is a robust and diverse set of educators, researchers, medical professionals, volunteers and academics that come from all walks of life and from around the globe. Each month we choose a member to highlight their academic and professional career, and see how they are making the best of their membership in IAMSE. This month's Featured Member is Dr. Marieke Kruidering-Hall.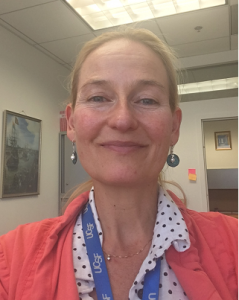 Marieke Kruidering-Hall, Ph.D.
Professor
Department of Cellular & Molecular Pharmacology
University of California San Francisco
How long have you been a member of IAMSE?
Wow time flies. I Just received my 15-year membership certificate. I still remember my first IAMSE meeting. I distinctly recall meeting colleagues from other schools who were also course directors for the "first integrated course" in their curriculum. It was so helpful to share tips and experiences. I also distinctly recall how Giulia Bonaminio made sure we felt welcome to IAMSE and made sure it was fun as well.
In your years with IAMSE, how have you interacted with the association?
I have been in attendance (of the annual meeting) almost every year, only missing the meeting if I could not come due to illness. I have presented preconference workshops on small group instruction, critical reflection, open-ended exam question writing and presented posters on several aspects of pharmacology education in our curriculum.
What projects are you currently working on professionally? 
At UCSF I am course director for the first integrated course of the medical school curriculum as well as director of courses for students at risk of underperforming. I teach pharmacology to medical, pharmacy and dental students. In addition, I am a facilitator for the weekly inquiry small groups that happen every Monday throughout the year.
Research wise, currently I am involved in an analysis of perceptions & psychometrics of open-ended exam questions with colleagues from Case Western, Hofstra and UCSF.
As a multi-year member, what is a standout benefit that keeps you engaged in IAMSE?
I continue to enjoy participating in workshops and learning more about many important topics like exam question writing, research methods and leadership styles. I also see this as a great venue where students whom I mentor on educational projects can present their work and enjoy the benefit of attending the educational meeting.
Moreover, IAMSE  is a venue where important conversations about topics like the ever-increasing amount of knowledge at our students' fingertips can be discussed across disciplines and across continents.
 
Anything else that you would like to add?
YES! IAMSE is where I found other pharmacology medical educators and we stayed in touch. We started our Pharmacology educators Interest group (Phig). As a group, we co-presented "Themes and Threads, Oh My: Managing a Longitudinal Discipline Across an Integrated Curriculum" at the 2019 annual meeting.
We share monthly zoom meetings during which we compare our curricula, plan our collaboration and research efforts. I look forward to the zoom call every month!
Without IAMSE  this would not have happened !! THANK YOU!