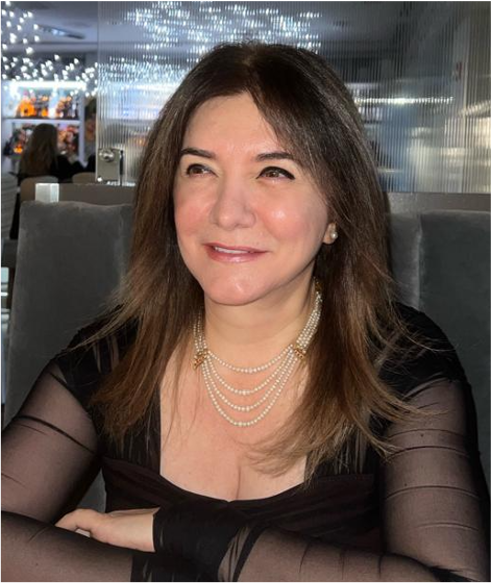 Our association is a robust and diverse set of educators, students, researchers, medical professionals, volunteers and academics that come from all walks of life and from around the globe. Each month we choose a member to highlight their academic and professional career and see how they are making the best of their membership in IAMSE. This month's Featured Member is Inaya Hajj Hussein.
Inaya Hajj Hussein
Associate Professor of Anatomical Sciences
Oakland University William Beaumont (OUWB) School of Medicine (USA)
Chair, IAMSE Public Affairs Committee
How long have you been a member of IAMSE?
I have been a member since I joined OUWB School of Medicine in 2012
What brought you to IAMSE? Why did you decide to join and how did you get more involved with the Association?
Prior to joining OUWB School of Medicine, I was mostly a molecular biology researcher in addition to teaching Anatomical Sciences. My background was in immunology and microbiology and was mostly involved in bench research on Inflammatory Bowel Disease. After my move to OUWB in 2012, I became involved in medical education and started to engage in scholarly activities focused on medical education. This new line of research took me to a new domain. I am very grateful to our Foundational Medical Studies department, which made the OUWB School of Medicine an institutional member of IAMSE.
IAMSE, with its international aspect, provided me with the opportunity to meet pioneers in medical education. I have gained a lot of experience from my participation in IAMSE's Annual Conference and have met colleagues with similar passions and interests from all over the world that further promoted collaboration at the national and international levels.
Looking at your time with the Association, what have you most enjoyed doing? What are you looking forward to?
I always look forward to the next Annual Conference! Where will the next meeting be held? What will be the theme? What is trending now or what's new in medical education and how can I get more involved with anticipation to get inspired and bring back exciting new ideas? I also look forward to connecting with new colleagues, creating more collaborations, developing new initiatives in medical education, and increasing my engagements with the association.
I have been involved in many ways such as presenting at the annual meeting either as a poster, oral, or focus session presenter, and being a committee member of the Student Professional Development Committee (SPDC), EnGAGE Committee, and the Publications Committee. Currently, I serve as the chair of the Public Affairs Committee. I still look forward to more involvement in the annual meetings programs and workshops.
Tell us a little bit about the Public Affairs Committee. What benefits does the monthly Public Affairs Report provide to IAMSE members? How can members contribute to this resource?
The Public Affairs Committee monitors the latest and most important developments in medical education around the world, then summarizes them, gives a general overview, and provides these to the membership in regular monthly reports. The Public Affairs Committee consists of 4 members including the chair and vice chair. The chair is an IAMSE member and reports to the Publications Standing Committee. Such an exchange is very enriching and stimulating.
IAMSE members can contribute by contacting me at hajjhuss@oakland.edu at any time with suggestions, comments, and special announcements that may be of interest to the membership and that may help improve the report. Members can also send us inspirational quotes to be included as "quote of the month" in the monthly report and other relevant material.
What interesting things are you working on outside of the Association right now? Research, presentations, etc.
On March 11, 2020, when the COVID-19 outbreak was declared a pandemic, the academic world abruptly shifted into a remote virtual realm. At OUWB, we sought to leverage this unique situation. With the use of Zoom™, we removed the geographic hindrances posed by the pandemic and assembled a passionate Global Community of Anatomical Sciences Educators (GCASE) from the five continents with the aim of continuing scholarly activities and increasing a network dedicated to education and scientific exchange. The GCASE was approved as a new member society of the International Federation of Anatomy Association (IFAA). We meet regularly and currently we are editing a special issue that highlights various aspects of anatomical sciences in the Journal of Academic Development and Education (JADE). I am one of the Co-editors.
I am also passionate and interested in adopting and developing new teaching strategies that stress co-creation and interactive self-directed learning, taking advantage of the most recent advances in information technology.
Anything else that you would like to add?
I would encourage the international members to get more involved in IAMSE. I believe IAMSE is a unique organization that will help educators to connect worldwide and grow into a community focused on medical education. Of most importance to me, being an immigrant from Lebanon and featured as an IAMSE member, I hope to attract more women in the field from the Middle East to join the IAMSE organization. Education in general is a critical area of empowerment for women and this is often neglected in the Middle East. I would like to seize this opportunity to be part of strengthening the connection between education, health, gender equality, and empowerment in line with the vision and mission of IAMSE.