Say hello to our featured member
Amber Heck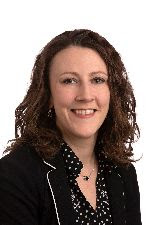 Our association is a robust and diverse set of educators, researchers, medical professionals, volunteers and academics that come from all walks of life and from around the globe. Each month we choose a member to highlight their academic and professional career, and see how they are making the best of their membership in IAMSE. This month's Featured Member is 2020 Early Career Award for Excellence in Teaching and Innovation recipient, Amber Heck, PhD.
Amber J. Heck, PhD
Associate Professor of Medical Education
TCU and UNTHSC School of Medicine
Fort Worth, Texas, USA
How long have you been a member of IAMSE?
I have been a proud member of IAMSE since 2013. My first meeting was at St. Andrew's University and I have only missed one meeting since. At the time, I was a new faculty member with only 3 years of teaching experience and was in search of faculty development opportunities. I attended the ESME course at that first meeting and learned so much that I was hooked right away.
Looking at your time with the Association, what have you most enjoyed doing? What are you looking forward to?
After being inspired by the ESME course, I decided to apply for the IAMSE Medical Educator Fellowship. My time in the Fellowship Program was very productive and instrumental to my growth as a medical educator. It resulted in my first publication in medical education and I have been pursuing this type of scholarship ever since. Over my time with IAMSE, I have become increasingly involved in the administrative side of things. I was asked to join the Educational Scholarship (ES) Committee, first as a member, and later to serve as Chair in 2018. Serving on the ES Committee has been one of the most fulfilling and enriching opportunities of my career. Finally, I became a member of the IAMSE Board of Directors in 2019, which has furthered my understanding of how the organization runs and opened up opportunities for collaboration, mentorship and friendship on an international level.
Among my favorite things to do within the organization include mentoring and serving as a reviewer. As part of the ES Committee and Professional Development Committee, I get the opportunity to review the work of our members in the form of faculty development sessions, poster and oral presentations, and research grants. In addition, I serve as a reviewer for our journal, Medical Science Educator. Through reviewing, I learn so much about educational scholarship and the exciting work our members are doing to improve medical education. Through my mentorship role on the ES Committee, I get to share this knowledge with other members and celebrate their successes alongside them.
What I most look forward to every year is the Annual Meeting. It is an excellent opportunity to meet others, hear about the exciting work of the members of IAMSE, and grow both professionally and personally. I am hooked on attending pre-conference professional development sessions and focus sessions, and I look forward to attending them again in person at the 2021 meeting in Cancun.
What interesting things are you working on outside the Association right now?
I am fortunate to have been faculty at three brand new medical schools. Currently, I am a founding faculty member at the TCU and UNTHSC School of Medicine, where we employ a novel, patient-centered, active learning phase I curriculum. The majority of my time now is served by developing new classroom materials and activities, which I find great joy in. In regards to scholarship, I have focused my research on faculty development related to integration and active learning. In addition, I recently co-authored a book chapter and look forward to working more on similar formats, sharing knowledge through review and synthesis. I really enjoy academic writing and spend the remainder of my time outside of classroom preparation pursuing such opportunities.
Let's talk about your award! You were chosen as the 2020 recipient of the IAMSE Early Career Award for Excellence in Teaching and Innovation. Tell us more about that.
I am truly humbled to receive the 2020 IAMSE Early Career Award for Excellence in Teaching and Innovation. It is an honor to be selected by my colleagues and mentors within IAMSE for this award. I have observed past winners' careers and innovations and feel grateful to be listed among them. Through the career awards, IAMSE has inspired and instilled confidence in awardees to continue to pursue innovative projects in the field of academic medicine.
What type of Innovations have you focused on in your career? What would you like to see happen in the field of medical education in your tenure as an educator? 
I have been lucky in my career to be able to explore multiple research questions related to student preparation and faculty development. In the past, I have pursued projects related to early medical education preparedness interventions, such as pre-matriculation courses and orientation programs which promote a growth mindset and metacognitive approach to learning. More recently, I have focused my attention on developing faculty to thrive in an integrated, active learning academic environment. My most exciting innovation so far is the development of a tool to assist faculty with self-assessment of integration within a single educational session.
Anything else that you would like to add?
I would like to thank the IAMSE Executive Committee and IAMSE Board of Directors for their support and mentorship. I would also like to thank the members of the IAMSE Educational Scholarship Committee and Professional Development Committee. It is through the opportunities designed and bestowed by these groups that I have been able to grow so much in my career as a medical educator. Please allow me to thank the members of the ES Committee individually for their mentorship and fellowship:
Amina Sadik
Diana Glendinning
Joe Stein
Jon Wisco
Katie Huggett
Kelly Quesnelle
Norma Saks
Paula Smith
Staci Leisman
Wilhelmina Hols-Elders
Click here to register for the IAMSE 2020 Virtual Conference!