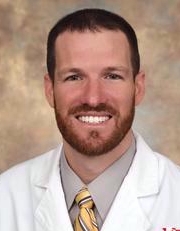 Our association is a robust and diverse set of educators, students, researchers, medical professionals, volunteers and academics that come from all walks of life and from around the globe. Each month we choose a member to highlight their academic and professional career and see how they are making the best of their membership in IAMSE. This month's Featured Member is Aaron Marshall.
Aaron Marshall, PhD
Position: Associate Professor
University of Cincinnati, College of Medicine
How long have you been a member of IAMSE?
Joined in 2017 around the time of the Burlington, VT conference.
Looking at your time with the Association, what have you most enjoyed doing? What are you looking forward to?
I appreciate the duality of IAMSE, being both an established organization and yet small and nimble enough to accept new ideas and people into important roles. The most impactful experience to my career has been the ESME course with Drs. Haramati and Harden and the subsequent fellowship program. I also enjoy serving IAMSE (to ensure it stays thriving), by volunteering for the Denver Conference program committee and reviewing conference abstracts. Hopefully more to come in that arena.
Tell us a bit more about the poster you will be presenting in Denver at the annual conference?
"Using Experiential Learning to Underscore Interprofessional Education in Nutrition" is an IAMSE-funded project about experiential learning and its impact on student attitudes and intentions regarding a historically underserved part of medical school (medical nutrition). To our teams' surprise, while participants in this experiential learning intervention wanted to incorporate more nutrition in a "typical" patient encounter, they recognized (from the experience as a patient) that providing too little information (in context of 15-minute appointment) is counterproductive. This recognition highlighted the importance of other health professionals.
What workshop, session or event are you most looking forward to in Denver?
As a member of the Program Committee, I am obligated to say ALL the sessions will be excellent. Joking aside, the committee (under Maria Sheakley's leadership) is very proud of the conference lineup. The pre-conference workshop Aligning Values and Behaviors: A Path to Authentic Leadership for Women in Academia is one I am looking forward to.
What interesting things are you working on outside the Association right now?
Dr. Heather Christensen and I co-founded a taskforce aimed at improving gender equity (all genders) at our college. The ongoing efforts were part of an accepted presentation to Advancing Gender Equity for Faculty: Allyship and Inclusive Leadership Strategies, a conference taking place at Bowling Green State University in May.
Anything else that you would like to add?
Many past featured members have talked about how great IAMSE is as a response to this question. Ditto for me. Like my home city of Cincinnati, IAMSE has big-time offerings with the feel of a small, homey organization.
---
For more information on sessions, presentations and to register for #IAMSE22 visit www.IAMSEconference.org.