Our association is a robust and diverse set of educators, researchers, medical professionals, volunteers and academics that come from all walks of life and from around the globe. Each month we choose a member to highlight their academic and professional career and see how they are making the best of their membership in IAMSE. This month's Featured Member is our 2019 annual meeting site host, IAMSE President Rick Vari.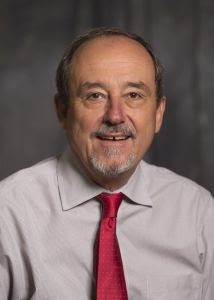 Rick Vari, PhD
Professor & Senior Dean for Academic Affairs
Virginia Tech Carilion School of Medicine
Roanoke, Virginia, USA
Why was the Virginia Tech Carilion School of Medicine the right choice for the 2019 IAMSE meeting?
We are the right choice for the meeting this year because we did a fabulous conference several years ago and we were already in the queue for a future IAMSE meeting. We had some scheduling issues with our original site for 2019 and we were able to step in and fill the void. We have a wonderful hotel site (at the Hotel Roanoke), and the people who came from all across North America for the Collaborating Across Borders V: An American-Canadian Dialogue on Interprofessional Healthcare and Practice, in 2015 really enjoyed it. As a relatively new medical school, we are excited about continuing our growing success in medical education; hosting the IAMSE meeting is a real honor for us.

What opportunities will attendees see in Roanoke that they've not seen in years past?
Roanoke is a beautiful city to have a conference. We've localized the venue, which is a major goal for IAMSE. Attendees and exhibitors will appreciate the layout of the conference site. We are adjacent to the Roanoke Market Square with restaurants, breweries, and shopping featuring local items. There are just lots of opportunities for networking and entertainment. The program is outstanding with presentations and sessions on current and future challenges facing health sciences educators. International abstract submission is up, so more colleagues from other parts of the world may be attending. Increased student participation will be another highlight. This year, IAMSE is also hosting a Taste of Roanoke Street Fair which will replace the annual gala dinner. IAMSE 2019 is going to be a very easy conference to attend. If you can stay for the Grand Extravaganza on Tuesday afternoon it is going to be very special with a hiking trip to a beautiful location on the Blue Ridge Parkway and a visit to the Ballast Point brewery (East Coast operation) for dinner.

Can you tell me more about this new event?
We are blocking off the Market Square in downtown Roanoke. We will have tastes of local food, beverages, and music. This is a chance to interact in a casual fun setting with lots of local food and a live band! It's going to be a lot of fun.

What session or speaker are you most looking forward to this year?
I'm looking forward to, of course, the Board of Directors and Committee Chairs meeting. I've enjoyed being president and interacting with the Board and Committee Chairs in this planning session provides IAMSE with a sense of solid direction. The plenary sessions also look very strong. I'm interested in the Gen Z session (Generation Z: The New Kids on the Block) and How to Use Disruptive Technology to Make Education Better – Not Just Different.

It sounds likes there is much to look forward to this year. Anything else you'd like to share?
The local response from the other medical schools in the area in support of the IAMSE meeting in Roanoke has been very strong. As a new school, this is a tremendous opportunity for us and the other medical schools in the area to get better acquainted.
To learn more about the 2019 IAMSE Annual Meeting, including the plenary speakers, workshops and networking opportunities, or to register, please visitwww.IAMSEconference.org.

Reserve your spot before March 15 to ensure the Early Bird Discount!