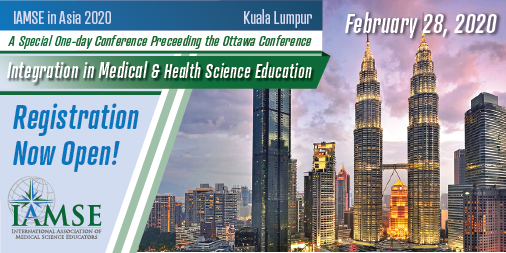 We are pleased to announce that registration is now open for the one-day IAMSE conference, to be held February 28, 2020 in Kuala Lumpur, Malaysia. Immediately preceding the 2020 Ottawa Conference, this conference of the International Association of Medical Science Educators (IAMSE) will have many opportunities for faculty participation, development, and networking, and brings together medical sciences and medical education across the continuum. Participants include basic scientists and clinical faculty from a variety of health care and educational disciplines. Students are also encouraged to attend and participate in the program.
Featured opening plenary speakers include Neil Osheroff, Vishna Devi Nadarajah, Sharifah Sulaiha Binti Syed Aznal, and Bonnie M. Miller. The topic of this opening plenary session will be: "Overcoming Barriers to Curricular Revision: Perspectives from Faculty and Administration Leaders." Our closing plenary speakers include Ronald Harden, Dujeepa Samarasekera and Kimberly Lomis. The topic of the closing plenary will be: "What Are the Next Steps in Health Professions Education?"
Additional meeting details and registration can be found at www.IAMSE-in-Asia.org.